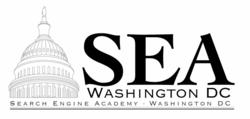 Being a diversity supplier exposes the Academy to larger companies who may not be aware that they can train their search engine marketing team quickly.
Washington, DC (PRWEB) May 24, 2012
Search Engine Academy Washington DC (SEA DC) was recently certified as a Lesbian, Gay, Bisexual and Transgender (LGBT) Business Enterprise via the NGLCC Supplier Diversity Initiative (SDI) program. The NGLCC's SDI is a program that provides businesses opportunities to offer their products and services to one another, as well as make possible connections with top American corporations.
Businesses that are corporate partners with the NGLCC have access to an exclusive LGBT supplier database to provide procurement opportunities to certified LGBT companies.
According to Nancy E. Wigal, who owns and operates SEA DC, "This is tremendously exciting for Search Engine Academy Washington DC. Being a diversity supplier exposes the Academy to larger companies who may not be aware that they can train their search engine marketing team quickly. Every company website on the planet needs to be optimized for better search results when their target audience types in keywords to find their business solutions. The way to show up higher in search engines results pages is by applying search engine optimization (SEO) processes and techniques to every page on the website. And you can't just do it once, and expect it to be done. You need to periodically re-examine your SEO efforts, and those of your competitors, to re-apply SEO as needed."
The NGLCC SDI allows SEA DC the opportunity to provide services in the diversity supplier program to large corporations and businesses in SEO training and certification. By being certified as an LGBT Business Enterprise, SEA DC can register with individual companies's supplier diversity programs.
SEA DC primarily provides SEO training and certification courses in two, three and five day classes, as well as customized corporate SEO training packages in the metropolitan Washington DC area, but is available to travel outside the region to administer its' SEO classes on-site.
According to Nancy, "I also create and deliver customized SEO training courses ranging from a half day to two days for individuals and businesses that have more than basic SEO, but don't quite fit the regular three day agenda."
Attendees who receive SEA DC SEO training learn how to do keyword research, write web-friendly content that is good for both the human reader and the search engines, as well as the actual optimization techniques, blogging, avoiding spam, and video SEO, and other basic and advanced SEO techniques and processes.
Nancy said, "We practice both keyword research and the actual optimization process for web pages in class. SEO is about practicing applying your knowledge and keeping up with the search engine changes."
All students receive six months' SEO mentoring free of charge upon completion of any SEO course. All classes are taught face to face, and the class size is limited to allow the SEA DC instructors time and opportunity to individually assist students.
"What we are concerned with is making sure our students not only understand the class materials, but we also think it's important to provide mentoring and assistance once they go back to their work site and start applying SEO to their websites. SEO is a function of practice - the more you do it, the better you get at doing it," said Nancy.
SEA DC provides the course materials. Students bring an internet-ready laptop to the class, and have opportunities to first learn, then apply their new-found SEO knowledge and techniques.
SEA DC registers with as many NGLCC corporate partners as it wishes to make them aware that SEA DC is a new LGBT BE diversity supplier. The companies review their diversity supplier database to determine if one of their diversity vendors should submit a bid or proposal to competitively offer their goods and services.
Nancy said, "I've been surprised in the past by folks coming to our courses from large, well-known corporations, and learning that many of them don't have a dedicated SEO staff, let alone an SEO program for their online marketing efforts. I really hope I'll get a chance to train some of these companies on how to apply SEO for better results in the search engines."
About Search Engine Academy: Founded in 2002 by Robin Nobles and John Alexander, Search Engine Academy has locations around the United States, Australia, Canada and the Middle East. All SEAs teach the most up to date SEO techniques, information and processes to anyone who has a website that needs to show up better in search results.
About the NGLCC: The NGLCC is the business advocate and direct link between LGBT business owners, corporations, and government. The NGLCC was founded as the exclusive organization for certification of LGBT owned businesses, and works to foster mutually beneficial opportunities for small businesses and corporate members. As the umbrella organization for 61 state, local and international LGBT chambers of commerce affiliates, the NGLCC is the largest LGBT business advocacy and development organization in the world.