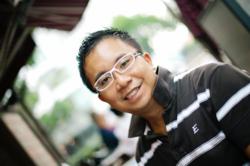 Singapore (PRWEB) May 24, 2012
Trying to find a good Singapore-based food blog is like trying to find a good family-style Asian restaurant or dish itself. It can take time, patience, and is usually the product of the hard work of someone who knows exactly what they are doing. Luckily, for you, the next great food blog is here at SalivaKing.com.
Just like a great chef prepares his meals with care and intensity, so too does SalivaKing.com's owner and blogger Malcolm Aw take great pride and care for his food blog project. Malcolm has dedicated the site to providing potential patrons and seasoned customers alike with the information they desire to know about all their favorite family-style Asian restaurants.
One might wonder what it is that sets SalivaKing.com apart from other blog websites. First and foremost is Malcolm's attention to visual detail. The pages are simple and easy to navigate, and the display and layout of the pages leaves no room for confusion or distraction. What is front and center in the pages are reviews and succinct yet detailed blog posts is the food. Those who find their way to SalivaKing.com cannot help but immediately become entranced by the masterfully framed and posed pictures of mouth-watering food. The vibrant colors and perfect lighting make one almost reach toward the screen to nab some tasty morsels for him/herself. The pictures truly allow the food to speak for itself and it becomes almost mesmerizing as one scroll through the pages of tasty looking treats.
For those who want to know more than just what food is present at the Singapore restaurants, Malcolm provides plenty of information regarding the ambiance of the establishments he frequents. And for those concerned that SalivaKing simply panders to the restaurants it visits, there is a fair amount of honest reviewing when it comes to the food, employees, and buildings themselves. SalivaKing is focused on letting everyone know exactly what to expect from the food he/she may eat at a given business.
Nearly no stone is left unturned as specific pricing is also added in Malcolm's reports. He even adds in the general preparation time for foods to cook. Portions and general sizes of meals are explained, and detailed descriptions of each dish are laid out for anyone who is considering frequenting the particular restaurant.
Most important in all of SalivaKing's work is that one comes away with the feeling that one fully understand what kind of experience he/she will get when they enter an establishment. There is no worry of an unwanted surprise or hidden problematic event that will occur when one visits a Singapore establishment once Malcolm has reviewed it.
There is no substitute for a quality food blog that can let you know what delights await you in Singapore. There is no better Asian-style food blog than SalivaKing.com, and with the hard work of Malcolm Aw to continue his job at bringing all of us tantalizing and descriptive reviews, we can all rest easy knowing we'll know exactly where to have the best Asian food experience in Singapore.