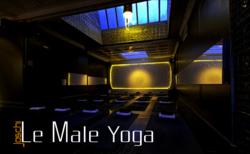 'We are thrilled to offer a unique yoga experience for men in Chelsea, NY,' says studio owner Joschi Schwarz. 'We love this community and look forward to providing a modern space for a practice that expands, energizes and liberates.'
New York City, NY (PRWEB) May 23, 2012
Joschi Le Male opens its premier Yoga for Men Studio in New York City on July 10, 2012. As the first and only Yoga Studio of its kind in the city, Joschi Le Male provides a community for gay, bi and straight men who are passionate about a healthy lifestyle and a great yoga workout, as well as a special mind-body connection.
'We are thrilled to offer a unique yoga experience for men in Chelsea, NY,' says studio owner Joschi Schwarz. 'We love this community and look forward to providing a modern space for a practice that expands, energizes and liberates.'
Joschi Le Male offers Vinyasa Flow Classes in beginner to advanced formats, Heated Tantric Yoga, Power Yoga Fusion, Nak'd Yoga as well as athletic Workout Programs for Men. The studio will also offer Yoga Alliance Teacher Training Programs on the 200 hour level for Hatha Yoga and Vinyasa Flow, with a strong focus on anatomy and physiology, directed by Joschi Schwarz & Monika Werner
Joschi Le Male, located in the heart of Chelsea on 23rd and 7th Ave, is a prime example of urban rejuvenation at its finest. The boutique-style studio has 3 practice spaces, each provided with unique features - color light therapy studio, heat chamber and chill room - a lounge area, changing area, shower and a small retail boutique. Men can choose from an extensive menu of classes, private sessions, workshops, events, and customized services with all the amenities that will ensure an exciting experience.
Come in and explore NYC's yoga playground for men.
To celebrate the upcoming launch, the studio is offering first-time students unlimited classes for one month for $99 when purchased online by September 03, 2012.
Devotedly altruistic, the studio also supports a number of LGBT organizations through donation based Karma Classes.
You are cordially invited to join Joschi Schwarz and Monika Werner to celebrate the inception of Joschi Le Male - Opening Party is July 10, 2012 at 6:30pm;
RSVP: info(at)LeMaleYoga(dot)com
For more information visit LeMaleYoga.com. To schedule an interview with Joschi Schwarz, please call Monika at 212.399.6307 or email her at info(at)LeMaleYoga(dot)com.
About Joschi Le Male
Welcome to NYC's Premier Yoga Studio for Men - a modern, boutique-style space to hang out, be yourself and feel good. We started with this idea to develop innovative yoga workouts and mix it with a welcoming, socially active atmosphere to bring the best to everyone we touch.
At Joschi [yo-shee] Le Male everything we do we believe in challenging the status quo, we believe in thinking differently. The way we challenge the status quo is by bringing together a vibrant mix of men from all flows of life, with different kinds of goals, who hail from all over the world and are in good physical condition and are interested to initiate a lifestyle that liberates, expands and energizes.
Whether you're after a dose of chi before an evening out, seeking an athletic workout or a fresh perspective to bring out your best... Joschi Le Male offers something for every man!
Our mission is to create an open, inclusive environment for gay, bi, and straight men and their families. Some of our classes are co-ed, so you can share your experience with your best friend, your sister, your confidant...
JOIN OUR COMMUNITY! We'd like to personally invite you to become part of the Joschi Le Male family and share the practice of yoga in an intimate, non-competitive atmosphere while making a connection with like-minded people and most importantly with yourself.