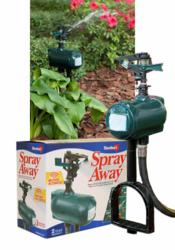 Spray Away is great! Finally, there's something to keep stray cats away from my bird feeder, and that makes me very happy! Susan B., Duncraft Customer
Concord, NH (PRWEB) May 24, 2012
Wild birds, especially those at bird feeders are subject to many types of predators. Duncraft identifies the most dangerous predators wild birds may encounter and provides tips on how to protect birds against them.
Cats
Perhaps one of the biggest threats to birds, feral and pet cats kill millions of birds each year. De-clawing or putting bells on cats has been shown to be ineffective in stopping them from killing birds. People that feed birds may not be able to stop stray cats from coming into the yard, but there are several things that can be done to help stop them from preying on wild birds. Duncraft suggests using chicken wire or rabbit fencing to encircle bird feeders and birdbaths. The fencing should be at least four feet high to prevent cats from jumping over it. Scare devices also work, such as ultrasonic animal repellants or devices that spray water when motion is detected, such as Spray Away, offered on Duncraft's website. Animal repellant granules such as [Critter Ridder also work but are best used in conjunction with another, stronger method. Hanging bird feeders high inside a tall bush such as a lilac will keep cats from ambushing feeding birds—they can't easily jump up through all the small branches. Feeders can also be pole mounted inside a dense shrub. Or hang bird feeders on a wire strung between two trees—high enough that cats won't be able to jump up to them. Birdbaths should be located near a tree rather than dense bushes that can hide a waiting cat. Birds will be able to bathe and drink and then quickly fly to a high branch. Duncraft warns customers not to use a ground style birdbath unless it can be encircled with cat-proof fencing.
Snakes
Snakes often attack bird houses, taking the eggs or eating nestlings. To keep them out of birdhouses, put birdhouses up on a pole, out in the open and away from trees that snakes can drop from. A canister baffle on the pole is helpful. Duncraft suggests sealing the area with duct tape if there's a space between the baffle and the pole where snakes could wriggle through. Never put birdhouses on fences, trees or the sides of buildings if snakes are a problem.
Squirrels and Raccoons and other Birds
Squirrels and Raccoons are notorious for attacking bird houses, eating the eggs and nestlings—as are some birds. The easiest way to deter these predators is to put an extension on the entry hole of the birdhouse, called a bird guardian. Paws and bigger birds cannot maneuver through the extension and reach down to the nest inside. The birdhouse should be on a sturdy pole, sunk well into the ground. A squirrel or raccoon's weight on top of a nest box is enough to tip a flimsy pole or even bend it to the ground.
Hawks
Hawks, particularly Cooper's and Sharp-shinned hawks are known for ambushing birds at bird feeders. Birds of prey are adept at catching songbirds in mid-air as they come and go from a feeder. If a hawk is taking birds at a bird feeder, the best thing to do is to take the feeder down until the hawk leaves. Birds can still be fed by sprinkling seed under evergreens or dense, brushy shrubs where they can eat under cover, or along a wood's edge. Providing birds with their necessities in areas where they don't have to come out in the open is the best way to handle a hawk problem.
Founded in 1952 and located in Concord, New Hampshire, Duncraft's objective is to bring the joy of backyard birding to wild bird lovers all across the country. Mike Dunn, owner and CEO is constantly inventing and searching for innovative ideas in bird feeding—giving bird lovers years of bird feeding enjoyment, success and satisfaction.
Duncraft
102 Fisherville Road
Concord, NH 03303
603-224-0200