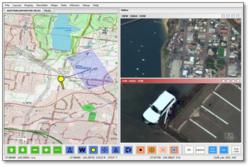 AIMS-HD enhances surveillance capabilities of modern EO/IR Imaging Systems.
Halifax, Nova Scotia (PRWEB) May 23, 2012
CarteNav Solutions Inc., the developers of the innovative intelligence, surveillance, and reconnaissance (ISR) solution AIMS-ISR®, will be at CANSEC 2012 demonstrating the latest edition to the AIMS Family of Products.
CANSEC is Canada's foremost defence technology showcase held in Ottawa, ON. A two-day event, CANSEC features a number of indoor exhibits by Canada's leading defence and security companies, as well as an outdoor static display. This showcase targets a wide audience of customers that includes Government agencies and departments with an interest in the Defence and Aerospace sector.
CarteNav's attendance at CANSEC 2012 underscores the company's ongoing commitment to provide capable, cost effective surveillance solutions to the Government of Canada.
2012 is a major milestone for CarteNav which is fast approaching ten years of operation. In that time, the Halifax based company has also seen its fair share of growth well beyond the Canadian Market. CarteNav's software solutions are now deployed on variety of surveillance platforms around the World; including nations such as Canada, Australia, New Zealand, United Kingdom, and France.
"We have nine years of operational experience with AIMS-ISR®, and one of the more significant milestones we have achieved of late, has been the roll-out of our latest product AIMS-HD," says Scott Richardson, CarteNav's VP Product Development.
"CarteNav draws on the experience gained by working closely with Operators from its broad AIMS-ISR® customer base. We've used that insight to drive the best set of surveillance features into AIMS-HD software," Mr. Richardson says.
AIMS-HD enables surveillance systems Operators to view live HD video feeds next to a geo-referenced camera boresight and footprint display, overlaid on CarteNav's powerful user-customizable Moving Map Display (MMD).
AIMS-HD makes good use of CarteNav's technical 'know-how' and is the natural progression following the widespread release of high definition (HD) imaging systems.
In addition to Airborne ISR, CarteNav is in the process of strengthening its technology roadmap to ensure that both AIMS-ISR® and AIMS-HD secure full entry into sectors such as naval, persistent surveillance, and ground-based reconnaissance markets, which are expected to experience explosive growth in the coming years.
Whether it's a CP-140 Aurora maritime patrol aircraft, a fixed-wing search and rescue platform, or armored reconnaissance vehicle, CarteNav's software solutions provide sensor operators with a high degree of sensor control and situational awareness.
About CarteNav Solutions Inc.
CarteNav Solutions Inc. is an international leader in situational awareness solutions for the maritime, land, and air environments. Founded in 2002, CarteNav offers operationally proven data integration and display technologies that dramatically improve performance of both sensor operators and tactical decision makers. The company has established a reputation for creating robust software solutions within a timeframe and cost structure that delivers unparalleled responsiveness and value to its customers.
CarteNav's global client base includes agencies from the national defence, homeland security, and public safety sectors.
The company's success is predicated upon its people and its dedication to continued innovation, guided by well thought out and focused research and development. An ISO-9001:2008 registered company, CarteNav's technical expertise in sensor management, graphical user interfaces, map technology and systems integration is underscored by an unwavering commitment to customer service and quality.