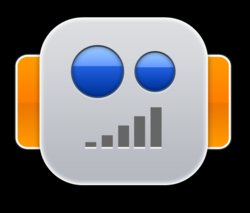 There are many amazing tech companies doing amazing things, so appsbar.com is honored to be recognized for the work we are doing to deliver the first all-free way for anyone to build and publish high-quality tablet and Smartphone-ready apps
Deerfield Beach, Florida (PRWEB) May 22, 2012
appsbar.com has been named a Finalist in the Best New Tech Company of the Year, Best New Mobile On-Demand Service of the Year, and New Media & Entertainment Application Product and Service of the Year categories by the 2012 American Business Awards.
The American Business Awards are the nation's premier business awards program and appsbar.com will ultimately be a Gold, Silver, or Bronze Award winner in the program. appsbar was recognized as a finalist among more than 3,000 nominations from organizations of all sizes and in virtually every industry that were submitted this year.
Since it launched in April 2011, appsbar.com has grown to a community of more than 100,000 app developers and become a go-to resource for the business and consumer communities. Using free tools to build and publish apps for Android, iTunes, Blackberry, Windows, and HTML5 mobile sites including Facebook, appsbar has evened the playing field for anyone who wants to join the app building game.
"There are many amazing tech companies doing amazing things, so appsbar.com is honored to be recognized for the work we are doing to deliver the first all-free way for anyone to build and publish high-quality tablet and Smartphone-ready apps," said appsbar.com founder Scott Hirsch. "The overwhelming positive response we get on a daily basis from the business, non-profit, music, hobbyist communities and more, has reaffirmed that the world was waiting for a tool that builds free, device agnostic and native, robust, and easy to make apps. With our communities' on-going support, we're going to keep developing and refining appsbar as the best tool for building the best free apps."
appsbar.com was identified as a finalists after a review by more than 140 business professionals nationwide during preliminary judging in April and May. More than 150 members of 10 specialized judging committees will ultimately determine Stevie Award placements from among the Finalists during final judging on May 25.
The American Business Awards will be presented at two awards events: the ABA's traditional banquet on Monday, June 18 in New York, and a new tech awards event on Monday, September 17 in San Francisco. Details about The American Business Awards and the list of Finalists in all categories are available at http://www.stevieawards.com/aba.
Media contact: Joe McGurk for appsbar at pr(at)appsbar(dot)com
About appsbar.com
appsbar.com is an online resource for anyone to build and publish free apps. Launched in 2011, appsbar fills the gap between over-simplified apps and costly, professionally-produced apps. Developed by Scott Hirsch and Appsbar Inc., it has grown into a community of everyday app developers and opened the way for businesses and people to engage with friends and brands online. For company information and partnership opportunities, visit appsbar.com .
About the Stevie Awards
Stevie Awards are conferred in four programs: The American Business Awards, The International Business Awards, the Stevie Awards for Women in Business, and the Stevie Awards for Sales & Customer Service. Honoring organizations of all types and sizes and the people behind them, the Stevies recognize outstanding performances in the workplace worldwide. Learn more about The Stevie Awards at http://www.stevieawards.com.
Sponsors and partners of The 2012 American Business Awards include American Support, Business TalkRadio Network, Callidus Software, Citrix Online, Dynamic Research Corporation, iolo technologies, John Hancock Funds, LifeLock, PetRays, Primus Telecommunications Group, SoftPro, and VerticalResponse. ###