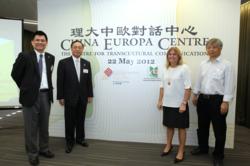 (PRWEB) May 23, 2012
The opening of the China Europa Centre at The Hong Kong Polytechnic University (PolyU) is hailed as an important milestone to facilitate society-to-society dialogue between Europe and China by strengthening the role of Hong Kong as a bridge between the two poles of the Eurasian Continent. With its packed schedule of academic exchange activities in the pipeline, the Centre is also expected to contribute to further internationalization of the University.
The China Europa Centre is opened today (22 May 2012) by Ms Maria Castillo Fernandez, Head of Office of the European Union (EU) to Hong Kong and Macao; Dr Chen Yan, Founder and Executive President of China Europa Forum Foundation; Mr Nicholas Yang, PolyU Executive Vice President; Professor Huang Chu-ren, Dean of PolyU's Faculty of Humanities. Many distinguished European and mainland guests also extended their warm congratulations on the auspicious occasion of Centre's opening.
Jointly founded by the China-Europa Forum Foundation and PolyU Faculty of Humanities, the Centre is established with a lofty mission to promote transcultural communication through convergence of ideas. It will seek to promote, facilitate, host and organize activities to deepen Hong Kong and China's understanding of Europe and reciprocally.
The Centre is committed to enhancing exchanges of experiences and traditional wisdom, jointly conducting academic researches, facilitating direct contacts between scholars, students, social actors and opinion leaders of both sides in order to explore new human relations. It will try to be a laboratory for models of living-together in the transcultural reality of the world and to form joint efforts to tackle common challenges in the current historical transition.
The new Centre has also added to the strength of PolyU faculty members. An anthropologist on transcultural studies, Dr Yu Shuo has moved from her base in Paris to join PolyU's Faculty of Humanities as an Associate Professor for the worthy cause of setting up the China Europa Centre in Hong Kong. She has been serving as founder and Coordinator General of the China-Europa Forum.
The Centre's recent activities in collaboration with the China-Europa Forum Offices include starting a column on the European debt crisis and its reflection in the Hong Kong Economic Journal Monthly. Since its launch in February 2012, the interview series has already covered Mr Michel Rocard, former Prime Minister of France; Mr Paul Tran Van Thinh; former delegate of EU in WTO; and influential thinkers Mr Edgar Morin and Mr Patrick Viveret. European Parliament Member and French Minister Delegate for Development (attached to the Ministry of Foreign Affairs) Mr Pascal Canfin will be the next interviewee to share his views on Europe after the elections, resolution and its relation with China.
PolyU was host to the third China-Europa Forum in 2010. Founded by French thinker Mr Pierre Calame, Mr Michel Rocard, senior diplomat Mr Wu Jianmin and others, the large-scale Conference based on preliminary small workshops seeks to promote communication, foster mutual understanding between the Chinese and European societies and forge common vision. The China-Europa Forum Foundation headquartered in Switzerland, recently established in Paris its new antenna under the aegis of the Académie des Sciences Morales et Politiques. The establishment of China Europa Centre in this Asia's world city will chart new course in transcultural communication.
Press contact: Dr Shih Pei-chun
Faculty of Humanities
Tel: (852) 3400 8215