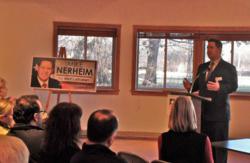 I will immediately put procedures in place to ensure wrongful convictions never happen again
Waukegan, IL (PRWEB) May 24, 2012
"A wrongful conviction is the worst thing that can happen in any case," according to Mike Nerheim, Republican candidate running for State's Attorney in Lake County Illinois in the November general election. "Preventing wrongful convictions is one of my top priorities and I'm not waiting until the election to tackle this important issue."
Nerheim's statement follows the overturning of another conviction based on evidence handling by the State's Attorney's office.
"As Lake County State's Attorney, I will immediately put procedures in place to ensure wrongful convictions never happen again, said Nerheim. "When I announced my candidacy last summer, I laid out specific actions I am prepared to take, including the creation of an independent Case Review Panel, developing protocols for the prosecution of cases with forensic evidence, and improving training for prosecutors and law enforcement. As the campaign proceeds, I have been meeting with law enforcement, legal, judicial and all members of the community that this effects–including victims, victim's rights advocates and civil rights leaders– sharing perspectives to address the most common causes of wrongful convictions."
Nerheim, who is running against Democrat Chris Kennedy, has extensive experience working in all criminal divisions of the Lake County State's Attorney's office. As an Assistant State's Attorney, he was well-respected by federal, state and local law enforcement for his guidance and approval of federal and criminal charges and for his strong commitment to representing the needs of victims.
"I recognize that being State's Attorney is about making tough decisions and the toughest decision a State's Attorney has to make is deciding when not to charge cases where there is insufficient evidence," said Nerheim. "Rest assured that I have the courage and confidence to make these difficult decisions and stand behind them. I'm committed to being tough on crime while making sure everyone is treated fairly… and that justice is served."
The lifelong Lake County resident and father of three young children further vowed "to promote a culture in the State's Attorney's Office that is open to looking at all different kinds of evidence to ensure the right people are being prosecuted. This is not just an issue about DNA. This is an issue of justice, and an issue of making the changes in policy, procedures, and training as well as bringing a fresh perspective and strong leadership to the office of State's Attorney that all citizens of this great county deserve."
Nerheim has extensive experience as a prosecutor and defense attorney, including in the areas of complex civil litigation and municipal law. He is fair and dedicated to equal justice for all.
Nerheim is widely recognized for vigorously prosecuting those who have violated the law while respecting both the rights of victims and the rights of the accused to ensure no one is wrongfully convicted. He teaches "evidence" and "DNA," and has successfully used DNA evidence in both prosecution and defense. He has been appointed by the courts to investigate post-conviction issues in pursuant to the Illinois Post-Conviction laws. He has written and argued post-conviction petitions on behalf of indigent defendants in defense of their criminal rights.
Nerheim has demonstrated strong leadership and business experience, and is actively involved in supporting the Lake County community. He serves as Teen Court Judge in Warren Township, Advisory Council member of Staben House, and Vice Chair of Lake County Bar Foundation.