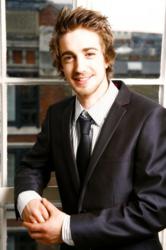 It always makes life so much easier for the photographer if the model is artistic
London, UK (PRWEB UK) 23 May 2012
To be a model is to be an artist according to La Mode, the model advice company in the very heart of modelling London.
'It takes a certain kind of personality to make a career successful within modelling,' say La Mode. 'It's not always about good looks,' continues Helen. 'Of course appearance matters, but it's also about the individual model, the character within. It's about the personality which can be brought out successfully by the photographer and transformed onto film. It's these people who make themselves the most successful models and stand out from the crowd.'
One such model, a creative individual who loves to learn and is always willing to help, is Andrew Rugg. He has always had a keen interest in design, be it interior, exterior, fashion, or anything at all creative.
The 5' 8" blonde haired, brown eyed boy is 24 and La Mode certainly think he has the makings to go far. With role models such as Will Smith, Bradley Cooper and George Clooney, Andrew is a model with a sense of humour who appreciates those with a magnetic personality. His aim is to see himself in GQ magazine alongside his fellow inspirations.
'To be in an amazing suit, networking with some of the top models and designers in the world,' Andrew enthuses, 'is priceless!'
Andrew's other interests apart from modelling are football and basketball, sports interests which are also essential for maintaining his very trim 28 inch waist and 34 inch chest measurement. He also has a very eclectic taste in art, liking blacksmithing as an art form to be admired.
'It always makes life easier for the photographer if the model is artistic', continues Helen.' It's always this type of person who seems to be able to envisage what the experts are wanting from them. It's not essential - we have had mathematicians and scientists as models on our books.'
She goes onto explain, 'what we do say to all our models is to practice posing facial expressions and always constantly flick through fashion magazines. We encourage them to scour the Internet to find the latest trends.' She goes on to say, 'getting over the embarrassment and making sure there is always good movement in their pose seems to happen quicker with those who like music or even play a musical instrument. If a model has good rhythm then it makes life so much easier for our experts here at La Mode.'
See the latest modelling websites and new clients as they join La Mode London, forging ahead with their very own modelling dream.