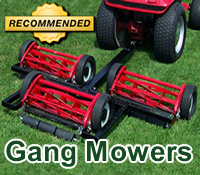 With a cutting swath up to 11 feet wide, gang mowers will allow you to cut grass faster than ever.
Bolingbrook, IL (PRWEB) May 22, 2012
Today MowersDirect.com announced its recommendations for the best tow-behind gang mowers.
"With a cutting swath up to 11 feet wide, gang mowers will allow you to cut grass faster than ever," said Todd Gwaltney, resident product expert at Mowers Direct. "If this type of mower is good enough to keep the fairways of your local golf course manicured, think how great your large expanse of yard will look."
Top Tow-Behind Gang Mowers
Good: Great States Gang Reel Finish Mower (3-Reels) - 3000-16
Better: ProMow Gold Premium Gang Reel Finish Mower (5 Reels) - GOLD5
Best: ProMow Gold Commercial Gang Reel Finish Mower (7 Reels) - SPORT7
A gang mower is a tow-behind finish mower that uses a fleet of three to seven reel mowers attached to an expanding frame. You can neatly cut large amounts of grass at once with a gang reel mower.
Mowers Direct specializes exclusively in walk-behind, riding and tow-behind mowers, as well as lawn tools and lawn mower accessories.
The online retailer combined retail prices, recent sales history, customer reviews and personal insight to generate its final gang mower recommendations.
Once the dust and data settled, only 3 tow-behind gang mowers sold by MowersDirect.com were given its prestigious "Recommended" status.
In addition, Gwaltney personally wrote online reviews for each tow-behind gang mower, explaining why the company recommended it.
By providing the recommendations and reviews, MowersDirect.com hopes to arm shoppers with enough ammunition to pick the perfect gang mower for their needs.
Power Equipment Direct operates 11 niche online superstores. In addition to MowersDirect.com, the Bolingbrook, IL-based company operates AirCompressorsDirect, ChainSawsDirect, ElectricGeneratorsDirect, LeafBlowersDirect, LogSplittersDirect, PressureWashersDirect, SnowBlowersDirect, SumpPumpsDirect, TillersDirect and WaterPumpsDirect.