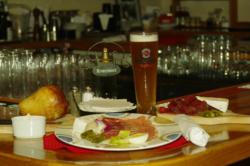 Vail, CO (PRWEB) May 29, 2012
Located on Vail Racquet Club Drive in East Vail, just a few minutes East of Vail Village and a short ride off the road which heads up Vail Pass, the Alpine Tavern is a must! Stop in for a $12 sandwich and a beer or enjoy the $18.00 pasta dinner, which includes pasta, dinner Caesar salad, homemade bread and a beer. These dinner specials will be served in the Old Muddy Bar from Thursday May 31 through Sunday June 3, beginning at 4:30PM. Enjoy your favorite sports on three flat screens, including a 52".
Also open for dinner is the Alpine Tavern's Edelweiss room. The soaring ceilings define Vail's premier mountain setting, as well as the roaring fire, dramatic lighting and alpine views. Fine silver, crystal and crockery frames every meal. The Edelweiss dining room will be open with nightly dinner specials daily at 5:30 TEVA games weekend.
Paolo Busi, Executive Chef, continuously presents diners with ever evolving, creative cuisine. The summer of 2012 is no exception. Lighter, even more diverse dishes will delight guest's palate. At the Alpine Tavern "Something special is always cooking!" Visitors and residents can enjoy daily and weekly specials prepared by Bussi and his staff using only the freshest seasonal ingredients.
Scott Kneeland, restaurant manager and sommelier, spent his spring searching for new wines that will make excellent pairings with the flavors of summer at the Alpine Tavern. Alpine's wine cellar presents wonderful choices including reasonably priced Napa, Sonoma, Italian, and other international wines perfect for special celebrations. For the connoisseur, Alpine Tavern has an excellent selection of fine French, Italian and American wines.
Alpine Tavern's international staff delivers, in the words of their customers "awesome service". Dining is a unique experience not just a meal. Guests are recognized at the entrance as a valued individual.