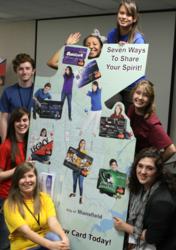 The Spirit cards are used by students, parents, and staff to create spirit and unity
Mansfield, Texas (PRWEB) May 23, 2012
Mansfield ISD's high schools have a new way of promoting their school spirit, with student-designed custom debit cards issued by Texas Trust Credit Union.
The new card designs and winners of the design contest were unveiled during a Mansfield Spirit event Monday, May 21. Superintendent Dr. Bob Morrison publicly recognized the students at the unveiling ceremony.
Eighty three entries were received, representing students from each of the seven MISD high schools, including MISD's newest high school, Lake Ridge, which will open this fall. The entries were narrowed down to 21 finalists, three from each school. The finalists were posted on Facebook during a six-day period when students, parents, teachers, administrators, and the community voted for their favorite card design for each school. More than 28,000 votes were received via Facebook. The Facebook votes were combined with votes from a panel of judges.
Of the seven winners, five are seniors, one is a junior, and one is a sophomore. Each winner received $250 and a seat on the Texas Trust Youth Advisory Council. They also get to spend a day with the Texas Trust professional graphic designer and marketing team to learn more about the design profession. They are:
Hannah Gormley of Arlington, a sophomore at Mansfield Timberview High School. Her card design received 10,888 Facebook votes, along with high votes from the judges.
Jessilee Shipman, Mansfield, a junior at Mansfield Legacy High School, whose card design was for Mansfield Lake Ridge. Jessilee is a student leader in the school Art Club and an active member of the marching band. She plans to study photography and fine art in college.
Madison Samas of Mansfield, a senior at Mansfield High School, had 10,065 Facebook votes and high marks from the judges. Madison is an accomplished artist and was chosen to design the school's literary magazine and curriculum guide. Madison's goal is to become an animator for Disney or Pixar.
Senior Rachel Olgin's design for Mansfield Frontier High School received 13,304 Facebook votes. She lives in Grand Prairie and will be attending UNT in the fall pursuing a degree in communication design.
Josh DuMond of Mansfield, the only male winner and a senior at Mansfield High School and Ben Barber Career Tech Academy, received high marks from the judges along with 10,151 Facebook votes.
Senior Vivian La's card design was chosen for Mansfield Summit High School. She is part of an artistic family, as her brother created the mural in the school office. Vivian, of Arlington, will attend UTA later this year.
Victoria Harkrider of Mansfield, whose father is currently serving overseas, received the most Facebook votes for her card design for Mansfield Legacy High School. She plans to attend UNT.
"The Spirit cards are used by students, parents, and staff to create spirit and unity," said Jim Minge, CEO of Texas Trust Credit Union. "The schools also benefit financially from the cards, while the students gain recognition for their artistic talent."
The new Mansfield ISD student-designed debit cards are now available to all members of Texas Trust. The newly designed cards are part of the Texas Trust Spirit Debit Reward program, which pays 15 cents to the participating school each time the card is used to make a purchase. Mansfield ISD high schools earned nearly $20,000 from Spirit Debit Reward cards from August 2011 through April 2012. The schools receive a monthly check for the money earned.
About Texas Trust Credit Union
Texas Trust is one of the largest credit unions in North Texas and the 21st largest in Texas. It has been operating for more than 75 years. As a full-service financial institution, Texas Trust offers checking, savings, mortgages, credit cards, CDs, Money Market accounts, IRAs, and investment and insurance services. Its business services include SBA and conventional loans, electronic payment cards, checking and money market accounts, merchant card processing, online banking, insurance, and the Employee Solutions Network. With 58,000 members and assets of more than $721 million, Texas Trust operates in Dallas, Tarrant, and Henderson counties, as well as parts of Ellis and Johnson counties. Texas Trust has eight branches located in Mansfield, Grand Prairie, Arlington, Cedar Hill, and Athens. For more information, visit http://www.TexasTrustCU.org. Texas Trust is a federally insured financial institution. Deposits up to $250,000 are insured by the full faith of the federal government through the National Credit Union Administration (NCUA).