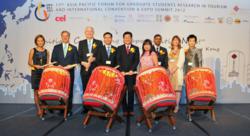 (PRWEB) May 23, 2012
More than 250 delegates from around the world are gathering in Hong Kong to attend the 11th Asia Pacific Forum for Graduate Students Research in Tourism (APF) and International Convention & Expo Summit 2012 (ICES) organised by the School of Hotel and Tourism Management (SHTM) of The Hong Kong Polytechnic University (PolyU) from 22 to 24 May 2012.
The Conference was officially opened today (22 May) at PolyU's teaching and research hotel, Hotel ICON, by Miss Rosanna Law, Deputy Commissioner for Tourism, HKSAR Government; Mr Daniel Cheung, Chairman, Hong Kong Exhibition and Convention Industry Association; and Professor Kaye Chon, Dean and Chair Professor of SHTM.
Taking the theme Initiate Connecting Opportunities Now!, it is the first time that the two prominent events have been combined into one and are being held concurrently in Hong Kong. Whilst APF aims to provide a platform for the exchange of information between postgraduate students and academics engaged in research and teaching in hospitality and tourism programmes in the Asia-Pacific region, ICES is dedicated to positioning itself as the leading conference of the MICE industry in Asia by providing an opportunity for the exchange of interdisciplinary ideas.
The opening ceremony was followed by a keynote session during which Professor Rohit Verma, Professor and Executive Director for The Center for Hospitality Research, School of Hotel Administration, Cornell University, delivered a speech on "The Future of Tradeshows, Meetings and Conventions: The Role of Technology, Social Media and Sustainability" and Mr Cliff Wallace, Managing Director, Hong Kong Convention and Exhibition Centre Management Limited, spoke on "Confronting the Challenges in Asia's Convention and Exhibition Industry".
The Conference also features panel sessions on a variety of topics which include "New Technologies in Research and MICE Industry", "Current Issues in Postgraduate Education in Hospitality and Tourism" and "Destination Marketing for MICE and Tourism".
For on-day registration and further details of the Conference, please visit: http://www.wix.com/apfices12/polyushtm
PolyU's School of Hotel and Tourism Management is a world-leading provider of hospitality and tourism education. It was ranked No. 2 internationally among hotel and tourism schools based on research and scholarship, according to a study published in the Journal of Hospitality and Tourism Research in November 2009.
With 60 academic staff drawing from 18 countries, the School offers programmes at levels ranging from Higher Diploma to Ph.D. It was awarded the 2003 International Society of Travel and Tourism Educators Institutional Achievement Award in recognition of its significant contribution to tourism education, and is designated by UNWTO as one of its global Education and Training Network Centres.
*****
Press contact: Ms Pauline Ngan
Marketing Manager, School of Hotel and Tourism Management
Tel: (852) 3400 2634
Email: hmpn(at)polyu(dot)edu(dot)hk