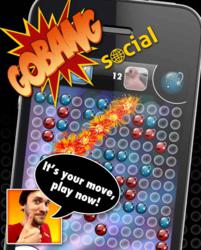 "We are excited to promote Gobang Social around the globe, and give iPhone users the chance to take part in our great competition."

Bruce Everiss CMO
(PRWEB) May 24, 2012
Gobang Social for the iPhone is a fun, multiplayer turn based Gomoku game to play against your Facebook friends. To play, simply drag and drop your bombs on to a playing grid and line up 5 in a row, in any direction before your opponent does.
Beat as many Facebook friends or random opponents as you can to win £399 ($632*). Kwalee's own dedicated server gives players the chance to enjoy the game with their Facebook friends as well as all who have downloaded Gobang Social.
The Facebook integration allows a simple login experience and the ability to play with your friends with ease. You can also boast about your wins by uploading wall posts to your profile.
British game developers Kwalee have created both a free to play version of Gobang Social, as well an advert free download for just 99¢. The strategic game is available globally for free on the Apple App Store, available here: http://kwalee.com/gobangsocial/
V1.6 Gobang Social game features:

Easy and fun to play
Turn-based multiplayer – more fun with more players
Tried, tested and derived from the Asian game of Gomoku
Facebook integration making it easy to play with your friends
Connect with other players with random matchmaking
Strategic game play
In-game chat
Score tracking with opponents
Cute characters
Constant updates
Player feedback sent from within the game
With V1.6 released this week, the company, established by Codemaster's co-founder, David Darling, has been listening to player feedback, improving the user interface, exterminated those nasty bugs, and improved it's visual appearance.
Check out in-game screenshots on the Flickr album: http://flic.kr/s/aHsjyKGnyL
Bruce Everiss, Kwalee CMO, is happy to be running this competition:
"We at Kwalee are excited to promote Gobang Social around the globe, and give iPhone users the chance to take part in our great competition. The development team has worked exceptionally hard to continually improve the game to the high standard it now is."
All you have to do is download Gobang Social, play the game and beat as many challengers as you can. The person who beats the most opponents by the end of May 2012 wins.
For reviewers interested in receiving a promotional code to obtain the advert free version for free, please contact Lizzie Stabler: lizzie.stabler@kwalee.com
*USD exchange rate may vary
Assets:

About: Kwalee is a startup company based in Leamington Spa to develop and publish apps for mobile devices. Founded by David Darling CBE who has many decades of experience at the top level of the video game industry with contributions to very many #1 games on many platforms in his CV. Kwalee is different. We seek to excite and entertain our customers with innovative new products that provide special experiences. Our ethos is based around a set of core values that put the customer first and which harness the creative skills of our staff to the maximum in order to do so. Kwalee is still at its beginning and so is very actively recruiting those special people who want to join us in our exciting journey.
Check out our website: http://www.kwalee.com, Facebook page: facebook.com/kwaleeteam and Twitter @kwaleeteam for more information.