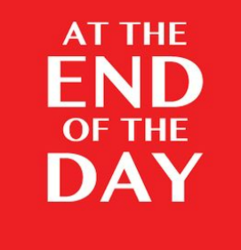 "You don't have to wait until you're lying on the floor thinking you've come to your last breath before you choose to do something differently," Lewis explains, hoping the message will affect countless people who read the book in the future.
Houston, Texas (PRWEB) May 24, 2012
"At the end of the day" is a phrase we have all heard over and over again; the emphasis being that whatever happens at that point is what is most important. Sometimes, there are moments in people's lives that intervene to force them to stop, think and change how they are living to reprioritize what really matters. Such was the case with oil and gas leader Lewis Senior ten short years ago when he had a near-death experience while traveling for work; inspiring a new career for him and eventually the moving book he and his daughter Laura Senior Garcia have written and are debuting in Houston this June: "At the End of the Day."
Being part of the management team of a large, global oil and gas drilling company, Lewis was away from his family a majority of his children's lives because of his demanding career. His trajectory changed in an instant, however, when a life-threatening health scare left Lewis gasping for air and clutching his chest while on a work trip to France. Literally "seeing the light" and believing he was truly taking his last breathe, Lewis vowed that if he lived, he would make an enormous life change, spend more time with his loved ones, and change course in his career to focus on helping people communicate. Equilibria, founded by Lewis and three colleagues within the drilling business on April 4, 2004, has since become a worldwide success.
Equilibria, now a global organization, works with corporations in the energy industry, such as Chevron, world wide, to further develop corporate communication skills, focusing on interactive and interpersonal communication, deliberate leadership behaviors and leading edge safety and efficiency processes. By using its effective "E-Color" system, Equilibria facilitates and coaches a strong and less ambiguous line of conversation for employees; leading to fewer safety issues and / or actual crises.
Lewis's daughter, Laura Senior Garcia, joined the Equilibria team after it launched at the young age of 19; not long after her rebellious teenage years when she and her father rarely spoke. Working side by side, however, allowed this daughter and dad to truly get to know each other, healing old wounds and making up for lost time since he worked almost nonstop during her childhood. After a few years together at Equilibria, and having discussed her father's near death experience and resulting epiphany with him many times over, Laura became convinced he must write a book about his life and how he was moved to change everything in an instant.
After much thought and questioning of whether or not people would care to read his story, the decision was made; Lewis and Laura began the writing project that would result in the book "At the End of the Day", which launches June 8, 2012 in Houston, Texas at Hotel Sorella.
Meanwhile, after seeing the impact of Equilibria's effectiveness in helping people communicate, David Payne and Joni Baird of Chevron saw an opportunity for the Southwest School in Houston to benefit from the E-Colors concept, as well. Baird introduced Lewis and Laura to Dr. Rosalinda Mercado – Garza at Southwest Schools and a partnership commenced. Equilibria introduced E-Colors to the student body and, due to the efficacy of the communication system, students who had previously been socially inept, depressed, or suffering through other difficult experiences began to change their behaviors and outlook on life. Through the program and life coaching skills Equilibria offers, the school also saw students gain confidence, patience and a greater desire to stay in school with plans to attend college.
The relationship between Southwest School and Equilibria continues to grow and flourish each year. So much so that when Lewis and Laura were pondering the design of the book's cover art, they reached out to the school to propose that the Southwest students have a competition to draw it.
The official "At the End of the Day" cover art will be unveiled at the book's launch party on June 8th at Hotel Sorella.
Both Lewis and Laura are excited to host this book launch celebration with over 150 of their friends and supporters in Houston. "We wanted to launch the book in Houston because it is our second home and we have really enjoyed developing our relationships with the students at Southwest School. Houston's generosity paired with the oil and gas industry's obvious presence has allowed us to build an unbelievable network here. We are excited for the book to launch so we can share it with our friends and future readers throughout the world," says Lewis.
Ultimately, the goal for the book is simple. Lewis wants to give people the opportunity to decide if to do anything different in the way in which they live their life. "You don't have to wait until you're lying on the floor thinking you've come to your last breath before you choose to do something differently," Lewis explains, hoping the message will affect countless people who read the book in the future. To make certain this happens, Lewis and Laura, who self-published the book, have coordinated with Amazon and iTunes to carry "At the End of the Day" in e-book form in hopes to reach a broader audience and change even more lives worldwide.
Also attending the book launch party at Hotel Sorella on June 8, 2012 are J. David Payne, V.P. Drilling & Completions, Chevron Global Upstream, Spyros Catechis, Founder & CEO Southwest Schools, Janelle James, Superintendent of Schools, Southwest Schools, Kevin Wink, Director of Operations, Pacific Drilling, Holly Higgins, 1st E-Colors Student Champion.
To learn more about "At the End of the Day" please visit: http://www.readourbooktoday.com 
To learn more about "Equilibria" and the E-Colors Concept please visit: http://www.equilibria.com
###