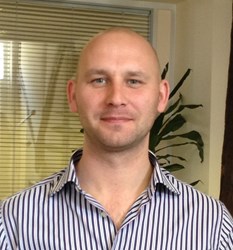 The search industry is constantly changing and that is a real challenge –the kind of challenge I relish
(PRWEB UK) 23 May 2012
ClickThrough Marketing, one of the UK's top Internet marketing companies, will be giving clients "the biggest bang for their buck" thanks to the appointment of a new account director.
Marek Martin, who has previously managed high-profile marketing campaigns for companies like BT and Compass, will help strengthen client relationships and develop effective digital marketing strategies focussing on both search engine optimisation and pay per click.
Before joining ClickThrough on May 8, Marek worked as a marketing consultant, implementing SEO and PPC strategies for small start-up businesses. He has also worked for BT, the Compass Group, and One.Tel, where he managed a range of traditional and digital marketing campaigns.
Now, Marek will use his experience as both an agency and client-side marketer to help ClickThrough create winning online marketing strategies, strengthen its existing relationships and forge new connections.
ClickThrough has seen a tremendous amount of growth in the past year, expanding its PPC and SEO teams, creating a dedicated content team, and hiring industry-leading experts to steer SEO and PPC strategy. Marek is looking forward to helping ClickThrough expand even further in the future.
"ClickThrough's primary strength is the market-leading technology that it offers," Marek explained. "They couple that with a friendly, personable approach.
"I've managed successful marketing campaigns for big companies, as well as having worked on the agency side of things. What I hope to bring to the table is a sharp understanding of client and agency relationships, so I can make it even easier for our clients to engage with us.
"The bottom line, though, is delivering results. And not only does ClickThrough have a track record of SEO and PPC success, we communicate these results to our clients effectively. I'm looking forward to building on these successes."
Marek is a keen sportsman, who enjoys skiing and snowboarding. He used to be a professional tennis player – but will now be tackling a totally different kind of net.
"The search industry is constantly changing and that is a real challenge –the kind of challenge I relish," he said.
"Recent Google changes, like Panda and Penguin, have shown that the industry can be turned on its head almost overnight. I think Panda and Penguin have shown, above all else, the importance of developing a diverse digital marketing strategy, with the emphasis on quality and value, rather than volume.
"The best way to protect your sites from Google reshuffles is to use strategies which are both ethical, and user focussed. That's exactly what ClickThrough does."
Marek joins ClickThrough as the company prepares for a projected period of rapid growth. He joins new starters Saiqa Bi, paid search manager, and Dan Bailey, SEO assistant.
For more information on ClickThrough Marketing, and ethical, white hat search engine optimisation and pay per click services, visit http://www.clickthrough-marketing.com
Notes to editors:
For more information, please contact: Alistair Harris, Content Manager, ClickThrough Marketing.
Telephone: +44 (0)1543 410 014
Email: aharris(at)clickthrough-marketing(dot)com
About ClickThrough Marketing:
ClickThrough Marketing (http://www.clickthrough-marketing.com) is a search and Internet marketing agency specialising in conversion optimisation. Since 2004, we have helped clients in the UK, USA and Europe reach new customers, using proven, ethical search marketing know-how. We pride ourselves on giving honest, actionable Internet marketing advice and online PR services. Whether you are thinking of changing your search or digital marketing agency, wanting search engine optimisation for your websites, or are just looking to improve your online PPC and organic conversion rates, our team of search conversion experts can help.