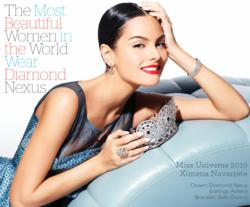 Miss South Dakota will get all ten of my votes every day. She is a yoga fan, just like I am
(PRWEB) May 22, 2012
The Miss USA beauty pageant began holding fan voting during the 2011 competition to allow a 16th contestant, to be chosen by the fans, to be voted into the semi-finals. The marketing team at Diamond Nexus has been encouraging everyone through social media sites like their Facebook page, to vote for their favorite contestant to win. However, when it came time to state whom they would vote for, they all offered their opinions on how to decide votes.
"I feel like I should vote for Miss Missouri because that is where I am from," rationalized Jennifer London, Social Media Coordinator. "But then I also should vote for Miss Texas and Miss Wisconsin if I vote based entirely on geography." She went on to vote for all the contestants, so as not to be unfair.
Melanie Helgerson, Graphic Designer for Diamond Nexus had a more scientific approach to her voting. She researched which charities were being supported and made her votes based on her preferred choices. "I really love what Miss Indiana, Miss Vermont and Miss Kentucky stand for. But they are all valuable organizations. I am probably doing what Jennifer did. Then everyone gets a vote."
Kyle Blades, Director of Marketing was heard exclaiming, "Miss South Dakota will get all ten of my votes every day. She is a yoga fan, just like I am!" Though, no one in the office had ever seen or heard of Kyle practicing this ancient exercise.
"We really want to remind fans that voting ends on June 2nd at 12:00PM ET. You can vote up to 10 times per day per account/valid email address. So get out there and help make your pick for Miss USA," commented London. "Seriously, though, we're proud of all the ladies and support each one. We wish them the best and look forward to meeting them out in Vegas where we will be attending as well. Make sure to follow us on Twitter @DiamondNexus to keep up with the latest news and participate in some fun Miss USA prize giveaways."
Voting for the Miss USA contestants can be found at this link: http://www.missuniverse.com/missusa/members/contestants
Diamond Nexus was founded in 2004 with the purpose of bringing to the public the powerful benefits of the lab-created diamond simulant revolution. They have over 250,000 customers worldwide that have awarded them an "A+" rating with the BBB, and are the ninth largest online jewelry retailer in America according to the 2011 IR500 list. For two years in a row brides from The Knot have selected them as their Best of Jeweler. Diamond Nexus currently has two retail locations: their flagship store at Woodfield Mall in suburban Chicago, Illinois, and a second store at Mayfair Mall in Milwaukee, Wisconsin. In 2009 the company was named the official jeweler and crown maker of the Miss Universe Organization as part of NBC/Universal's "Green is Universal" environmental initiative.