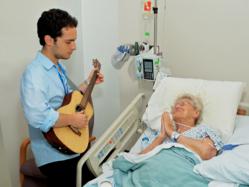 Westchester County, NY (PRWEB) May 22, 2012
Northern Westchester Hospital is proud to announce the expansion of its growing Music Therapy Program.
The program is offered by the Integrative Medicine Program, which received a 2011 Spirit of Planetree Award for supporting the hospital's mission of improving the health and wellness of its community members through the power of song.
People who want to reduce anxiety and stress with the help of the same music therapy techniques applied in hospital settings can take part in free workshops through Northern Westchester Hospital in Mount Kisco, New York.
The program, Relaxation and Stress Management through Music, was developed with help from community neurologists, a team of psychiatric physicians, and a strong partnership with CenterLight Health System's Institute for Music and Neurologic Function (IMNF). The classes are held from 10:15 to 11 a.m. Tuesdays in NWH's Health and Wellness Room at the Cancer Treatment and Wellness Center in Mount Kisco, New York.
Participants in the program may take part in a drumming circle or play various percussion instruments, improvise music, and talk about rhythm and style.
"People learn how to use music as a coping mechanism and see how it helps us," said Ariel Weissberger, the IMNF music therapist who runs the program. "Connecting with yourself and others helps you connect with your emotions and brings about a sense of empathy and belonging."
Patients at NWH work with a dedicated music therapist in various settings to address physical, emotional, cognitive, and social needs. The music therapists visit patients on both the medical surgical and the behavioral health units.
"Some are able to sing, play along or request a song, while others benefit from music by listening or reacting with a smile, a tear or a comment depending on the circumstances. Some are cheered up by the end of the session, while others relax and fall asleep," Weissberger said. "In some cases we get to see a patient's bright side that we may not see otherwise."
The response from patients who participate in NWH's Music Therapy Program has been extremely positive. Attendance, which is not mandatory, ranges from 85-100% participation. Data analyses from patients who choose to participate show an increase in engagement, with a decline in depression and overall anxiety.
To register for the workshop, call (914) 242-8168.
About Northern Westchester Hospital
Northern Westchester Hospital (NWH) provides quality, patient-centered care that is close to home through a unique combination of medical expertise, leading edge technology, and a commitment to humanity. Over 750 highly skilled physicians, state-of-the-art technology and a professional staff of caregivers are all in place to ensure that you and your family receive treatment in a caring, respectful and nurturing environment.
NWH has established extensive internal quality measurements that surpass the standards defined by the Centers for Medicare & Medicaid Services (CMS) and the Hospital Quality Alliance (HQA) National Hospital Quality Measures. Our high quality standards help to ensure that the treatment you receive at NWH is among the best in the nation. For a complete list of our services, please visit http://www.nwhc.net.
About The Institute for Music and Neurologic Function
The Institute for Music and Neurologic Function, part of CenterLight Health System in the Bronx, is an internationally recognized non-profit agency that offers groundbreaking music therapy programs to maintain and improve patients' physical, emotional and neurological function.
Northern Westchester Hospital Contact:
Gretchen Mullin,
Associate Director, Marketing & Communications
gmullin(at)nwhc(dot)net
914.666.1266
The Institute for Music and Neurologic Function Contact:
Lynne Smith
Director of Media Relations
Lysmith(at)centerlight(dot)org
718-519-5992