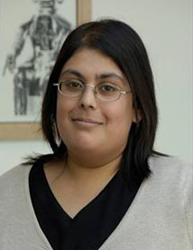 I was attracted to ClickThrough because it has such a clear focus
(PRWEB UK) 24 May 2012
Leading online marketing company, ClickThrough Marketing, has bolstered its PPC team with a new paid search expert.
New paid search manager Saiqa Bi joined the pay per click management team (http://www.clickthrough-marketing.com/services/pay-per-click-management/) on May 9. She will work to develop winning PPC strategies for clients such as Dunelm Mill, Nectar and Halfords.
Saiqa - an award-winning marketing graduate with a taste for Chinese cinema - has vast experience managing email, pay per click and affiliate campaigns within the Home Retail Group.
Now she will use her client-side experience to boost ClickThrough's PPC campaigns for clients. She will work alongside Amy Bott, ClickThrough's head of paid search, on strategic account planning and analysis.
Saiqa started working in Internet marketing during her master's degree in strategic marketing and consultancy at University of Birmingham.
During her studies, Saiqa worked on a consultancy piece for Cadbury, helping with its social media measurement – and she enjoyed the experience so much that she dropped her plans to become a strategic consultant.
Inspired, Saiqa refocused her career ambitions and decided to enter the world of online marketing.
Saiqa said she was impressed with the agency's approach to white hat search engine optimisation and PPC.
"I was attracted to ClickThrough because it has such a clear focus," she said.
"We have foundations in place to achieve our goals, and to continue getting great results for clients."
ClickThrough is equally impressed with Saiqa, who is bursting with ideas about the future of paid search.
"We've heard a lot of noise about the increasing importance of mobile and social media in paid search," she explained.
"But I think there are going to be more interesting developments as attribution models continue to be refined."
Saiqa is the latest in a series of new additions to ClickThrough's team, as the company continues to expand and invest in new talent over the coming year.
She joins new SEO recruits Josh Smithyman and Dan Bailey, and account director Marek Martin, the latest members of ClickThrough's growing client services team.
For more information on ClickThrough Marketing, including pay per click management services, white hat SEO strategies and conversion enhancement services, visit http://www.clickthrough-marketing.com
ENDS
Notes to editors:
For more information, please contact: Alistair Harris, Content Manager, ClickThrough Marketing.
Telephone: +44 (0) 1543 410 014
Email: aharris(at)clickthrough-marketing(dot)com
About ClickThrough Marketing:
ClickThrough Marketing (http://www.clickthrough-marketing.com) is a search and Internet marketing agency specialising in conversion optimisation. Since 2004, we have helped clients in the UK, USA and Europe reach new customers, using proven, ethical search marketing know-how. We pride ourselves on giving honest, actionable Internet marketing advice and online PR services. Whether you are thinking of changing your search or digital marketing agency, wanting search engine optimisation for your websites, or are just looking to improve your online PPC and organic conversion rates, our team of search conversion experts can help.