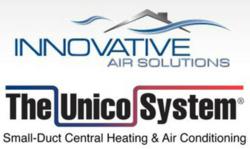 Tuckahoe, NY (PRWEB) May 24, 2012
Innovative Air Solutions (IAS), the local trusted installer of Unico, Inc. products, continues its competitive edge by announcing its readiness to install the system's newest air handler, the just-released 3036 model.
The goal of IAS remains to only install the finest heating and cooling systems available, making them the go-to contractor for installing The Unico System®. To date, IAS has installed more than 800 Unico systems. Now, with this newest air handler, they capitalize on that experience making the installation process a breeze, with no concerns for homeowners.
The Unico 3036 is even more efficient than its predecessors and still fits in any type of space and home design, and maintains its well-known quiet performance.
Unico, Inc. is considered the leader in small duct high velocity heating and cooling systems. They actually spearheaded the movement to create this new classification of systems (SDHV), recognized since 2004 by the Department of Energy. Their top of the line products and latest technology set them apart from others and have made them the world leader in air management systems.
Innovative Air Solutions provides high-quality heating, ventilation and cooling solutions for residential and commercial uses in the greater Westchester and Putnam Counties in New York. Owned and operated by brothers Michael and Matthew Carlo, the long-time HVAC family business has expanded to embrace whole-house performance services as a Dr. Energy Saver® franchise, continuing its progressive approach. The team of professionals at IAS is trained and certified in the latest energy conservation techniques and product installations to help customers improve energy efficiency and overall comfort in their home and workplace.