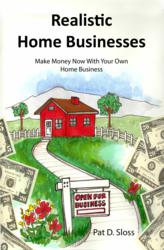 Imagine your own home business.
Falcon, Colorado (PRWEB) May 24, 2012
"Realistic Home Businesses-Make Money Now With Your Own Home Business" by Pat D. Sloss is the book for people who want to know where to begin in the quest for starting a business.
The hardest part is getting started. This book will guide the reader through the steps, not only for finding a niche, but also tips for becoming self-employed. Each business listed has numerous specialties to choose from and enough information to come up with additional ideas. Most of these businesses require a small investment working part or full time. Invest additional funds as the business grows.
A broad collection of categories and many different businesses are listed in the book. Specifics are given for each business. There are businesses listed for both those with a high degree of computer experience to people who have no computer skills. This book explains how to search for skills and passions to find the perfect business fit. There are links to professional organizations and resources for each business. A blog with new business ideas and additional resources, courses, equipment, and software is available on this site: http://www.pdsloss.com.
Categories of the many businesses listed in this book are: Agency Consultant, Telecommuting, Home Office, Freelance, Mobile, In the Home, Home Workshop/Studio, On an Acre or More, and Selling/Reselling.
Business specifics include: Description of each business, skills needed, equipment needed, average income, and professional organizations or resources.
About the Author
Pat D. Sloss has a B.S. degree in Biomedical Electrical Engineering and Graduate work in Computer Science. She worked as a writer and an engineer with many years experience in Technical Writing, Grant/Proposal Writing, Research, Business Writing, Commercial/Aerospace Engineering, Biomedical Engineering, Teaching, Oil & Gas Management, Greenhouse Nursery, and Ranching. She has written more than 30 books and manuals for commercial, medical, and aerospace companies and has been involved in a number of successful businesses.
Realistic Home Businesses * by Pat D. Sloss
Make Money Now With Your Own Home Business
Publication Date: April 26, 2012; Realistic Press
Paperback: $19.95; 264 Pages; ISBN-13: 978-0985453701
For additional information or to buy this book visit: http://realistichomebusinesses.com
Available at Amazon.com and Ingram