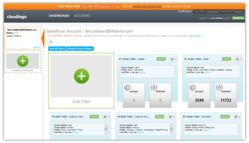 I'm now actually confident in the quality and consistency of our data.
Dallas, TX (PRWEB) May 23, 2012
Symphonic Source Inc., a leading provider of powerful and affordable salesforce.com data management software, today unveiled a major refresh of Cloudingo, the company's salesforce.com data deduplication tool.
Cloudingo has quickly become a favorite for salesforce.com administrators around the world to sniff out duplicate/similar records inside salesforce.com and merge them.
Cloudingo aims to serve as the go-to resource for all salesforce.com administrators and implementation teams.The latest release of Cloudingo incorporates several elements to improve productivity and user experience, including:
+ In-line edit - You can now edit one or more records directly in Cloudingo
+ Major performance enhancements
+ Support for Salesforce.com professional edition
+ Hundreds of other updates based on user suggestions
"Today's Salesforce.com administrator is looking to achieve more with their tools than ever before. When a customer uses DupeCatcher or Cloudingo, they're not just getting valuable tools, they're also getting access to all the knowledge that we as a company have accumulated. We're here to make life easier for salesforce.com administrators everywhere," said Lars Nielsen, CEO, Symphonic Source.
Cloudingo's benefits:
+ Rich user interface allows you to view and work with your data quickly and easily
+ Insight into where the duplicate data resides in your organization and the scope
+ Cloud-based SaaS model. Just download the Cloudingo Agent (native Salesforce.com plugin) and create an account
+ All your notes, attachments, campaigns, etc. are preserved (no data loss)
+ Merge history is maintained and can be downloaded
"We were really surprised at how fast and easy it was to setup filters in Cloudingo and dedupe our data. I'm now actually confident in the quality and consistency of our data," said Claudia Aslin of HospitalityLawyer.com
About Symphonic Source
Symphonic Source provides powerful and affordable salesforce.com data management software to customers worldwide -- from Fortune 500 enterprises to small businesses and non-profits. We work extremely hard to stay as close to our customers as possible. Our customers are direct participants in shaping the future of our development efforts. As a company, our focus has always been on creating easy-to-use products.
Cloudingo and DupeCatcher are registered trademarks of Symphonic Source, Inc.. All other company and product names mentioned are used only for identification purposes and may be trademarks or registered trademarks of their respective companies.