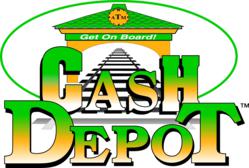 The "All In One ATM Stop"
Green Bay, WI (PRWEB) May 23, 2012
The Crystal LED illuminated ATM topper is made of an acrylic frame which allows the light to extend all the way to the edges. This gives a "halo effect" of light around the frame adding to the richness of the display.
Features:

20"H x 16" W
Quick & easy changing of graphic inserts, requiring no tools
Super thin - less than 0.35" thick
Long life SMD LED - lasts over 50,000 hours
Optical grade clear acrylic face panel
10 foot power cord, with on/off switch
For more information about Cash Depot and ADA compliancy and ATM equipment, visit their main website: http://www.cashdepotplus.com, or the sales website: http://www.cashdepotatm.com
Cash Depot is a privately owned, independent full service ATM Provider focusing on merchants and financial institutions. It is one of the few companies in the industry that provides In-House Processing resulting in the fastest possible transactions. Cash Depot sells, leases, rents, services and supports ATMs in the most efficient way maximizing profitability and customer satisfaction.
Cash Depot - The One Stop ATM Provider
1740 Cofrin Drive Suite 2
Green Bay,WI 54302
1-920-432-5777
1-800-776-8834
http://www.cashdepotplus.com
http://www.cashdepotatm.com