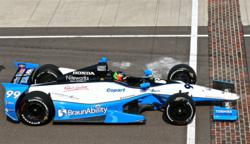 Awareness of mobility issues is at all-time high right now.
Akron, OH (PRWEB) May 23, 2012
MobilityWorks announced today it will join Indiana-based accessible vehicle manufacturer BraunAbility as a sponsor of the Sam Schmidt Motorsports entry in this year's Indianapolis 500 Mile Race.
Based in Winamac, Ind., BraunAbility is an industry leader in personal mobility, including the manufacturing of wheelchair vans, wheelchair lifts and other mobility accessories. The company, celebrating its 40th anniversary this year, was founded by Ralph Braun in 1972 based on his own need for mobility as a wheelchair user himself.
"Racing has always been one of the great loves in my life," said Ralph Braun. "Another is giving people with mobility challenges a way to get on the road to fully experience their lives. Bringing those two loves together at the Indy 500 fulfills a lifelong dream for me."
Like Ralph Braun, Sam Schmidt also overcame his own mobility challenges to go on to lead an incredibly successful career. Schmidt was injured in a testing crash at Walt Disney World Speedway in January 2000, just a few months after earning his first IndyCar victory. The accident left Schmidt a quadriplegic, but it hardly slowed him down.
"This relationship with Braun is more than just a sponsorship to me, " said SSM owner Sam Schmidt. "Ralph Braun has been an inspiration to me since my accident, showing constant drive and determination to build a company of over 800 employees that delivers life-changing equipment to people with disabilities, including myself. We have become quite close, and I have never once heard him complain about his situation. He's a firm believer that you can do anything if you put your mind to it."
The fact that the race occurs during National Mobility Awareness Month is especially fitting. The awareness month serves to educate the public that people with disabilities can live an active, mobile lifestyle. Individuals with mobility issues, more than 18 million people in the U.S. and Canada, comprise the second-largest minority in the U.S. More than 6 million are veterans.
MobilityWorks offers BraunAbility mobility products to individuals with disabilities in 12 states across the country. "Awareness of mobility issues is at all-time high right now. It's an honor for us to be in this industry, providing solutions that help people go where they want to go" said Bill Koeblitz, MobilityWorks President/CEO.
The No. 99 BraunAbility/Schmidt Pelfrey Motorsports car is being driven by Californian Townsend Bell, who will be making his sixth start in the Indianapolis 500. His best finish is fourth in 2009, which matches his best start in 2011. "The Greatest Spectacle in Racing" takes the green flag at Noon ET on Sunday, May 27.
About MobilityWorks
MobilityWorks is the largest adaptive vehicle dealer in the United States. The INC 500 company now employs more than 300 full-time employees throughout the country, with 20 showroom and service centers located in the states of AL, CA, FL, GA, IL, MI, NJ, NY, PA, OH, TN and WI. The MobilityWorks Commercial division provides custom fleet vehicles specializing in wheelchair accessible transportation. MobilityWorks is based in Akron Ohio and is a member of the National Mobility Equipment Dealers Association (NMEDA) and Accessible Vans of America (AVA), a national van rental organization. For additional information, please visit http://www.mobilityworks.com.
About The Braun Corporation
The Braun Corporation is the largest manufacturer of wheelchair-accessible vans, ramps, and wheelchair lifts worldwide, enabling people with physical disabilities to regain mobility and lead active and independent lives. The company was founded in 1972 by Ralph Braun, who was diagnosed with spinal muscular atrophy at a young age and was unable to walk by the age of 15. The company offers the most diverse line of vehicle platforms in the industry. The corporation is based in Indiana, U.S.A. For more information, please visit http://www.braunability.com.
About Sam Schmidt Motorsports:
Sam Schmidt Motorsports (SSM) was established in 2001 and is owned by former driver Sam Schmidt, who was paralyzed (quad) in 2000 after an accident during testing at Walt Disney World Speedway in Orlando, Fla. As a car owner, Schmidt fields cars in the IZOD IndyCar Series, including the Indianapolis 500, and the Firestone Indy Lights championship. SSM is the most successful team in Firestone Indy Lights history with 47 race wins and five championships. In addition, SSM has qualified 12 cars in the Indianapolis 500 since 2001 and won the coveted Indy 500 pole in 2011.
About National Mobility Awareness Month
National Mobility Awareness Month is the inaugural May celebration that encourages people with disabilities to enjoy active, mobile lifestyles. Founded in 1989 as a non-profit trade association, The National Mobility Equipment Dealers Association sponsors the awareness month with the assistance of more than 600 mobility equipment dealers, manufacturers and driver rehabilitation specialists dedicated to expanding opportunities for people with disabilities. For updates on the awareness month and Local Heroes overcoming mobility issues, please visit NMEDA's Facebook page or website.