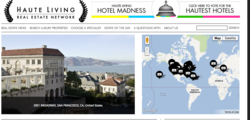 New York, NY (PRWEB) May 22, 2012
Haute Living is excited to announce the launch of Haute Residence, a relaunch of the Haute Living Real Estate Network site.
Focused on highlighting only the most luxurious properties in the most upscale neighborhoods in the United States and abroad, Haute Residence features properties valued in excess of $4 million sold by Haute Living Real Estate Network members. Access over 70 top agents and build a Rolodex of sources to solve all real estate questions or needs. Explore four feature Estates of the Day, listed by these agents, on the site daily.
The new site is equipped with the latest features in media as well as the capability to reach mass audiences. Google Maps software lists properties worldwide, with pins marking their locations. The Haute Residence blog page is updated two to three times a day with celebrity real estate and luxury living news.
All content posted on Haute Residence garners traffic from other Haute Living sites including hauteliving.com, hautetime.com, hauteauto.com, hautefashiondaily.com, hauteyachts.com and more. Using advanced SEO techniques, Haute Residence maximizes the reach of all postings, providing links back to members and more.
Haute Residence takes advantage of all social media channels, letting our users share stories over Facebook, Twitter, Pinterest, Google Plus and 20 additional platforms.
Explore the new site at http://www.HauteResidence.com.
About Haute Living Real Estate Network
Haute Living Real Estate Network specializes in selecting top real estate professionals, creating the most prominent directory for exclusive listings. The network website is an online destination for all things real estate-related and features daily blog posts providing up-to-date news on affluent markets and real estate developments. Access all of this information and more by visiting http://www.hauteresidence.com
About HauteLiving.com
HauteLiving.com provides readers with information on all the haute happenings in their cities and afar. Catering to 18 markets worldwide, editors keep each blog page updated with recent news, exclusive events, exciting openings and new releases. Going beyond current events and newsworthy topics, Haute Living-affiliated sites cater to niche markets, one being the acclaimed Haute Time site, which satisfies luxury timepiece aficionados with exclusive interviews and more.