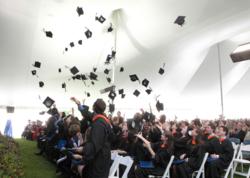 It's your opportunity to stand up and lead and make visible the hope of the future, said Nicholas Donofrio
Needham, Mass. (PRWEB) May 23, 2012
Olin College of Engineering held its seventh Commencement exercises Sunday, May 20, on its Needham campus. Under crystalline blue skies, 69 graduates received Bachelor of Science degrees during the ceremony, and heard a variety of speakers urge them to use their newly minted degrees to create innovations that will help transform the world.
Featured speaker Nicholas M. Donofrio, a senior fellow at the Ewing Marion Kauffman Foundation and former IBM executive, took innovation as his theme. Noting the complexity of the challenges in a rapidly changing world, Donofrio said Olin graduates have a special responsibility to use their education for the good of humankind. "It's your opportunity to stand up and lead and make visible the hope of the future," Donofrio noted.
Making an impact on the future will require a special combination of vision and hard work, Donofrio noted. "It is aspiration, it is inspiration and it is preparation—that's what it takes to succeed in the 21st century."
Olin President Richard K. Miller urged graduates to "aim high, take on the impossible challenges, work very, very hard, endure the difficulties, be brave enough to risk some mistakes along the way and never, never, never, never, give up. Because the reward for blazing a difficult, innovative trail will be greater – despite occasional missteps – than if you follow the safer, smoother path."
Student speaker Connor T. Stokes '12 focused on Olin's penchant for continuously re-evaluating its practices and the ease with which new traditions can be created at the college: "To call Olin non-traditional is to sell ourselves short. We're not breaking tradition for the sake of change; we're building the tradition for the future," said Stokes.
Associate Professor Sanjoy Mahajan, representing the faculty and staff, noted how Olin students have changed his view of teaching and learning. "And thus you changed my answer to the question of, 'how are Olin students different?' said Mahajan. "My answer now is, 'You have stayed curious. You still want to know how the world works, how it is put together, and how to apply what you are learning to improve it. And you have the courage to ask about it."
The Class of 2012 contains the youngest student ever to receive a degree from Olin College. One member of the class received a Fulbright scholarship, one received an NSF graduate fellowship and fourteen—a single year record—are bound for positions at Microsoft.
One entrepreneurial venture is already underway, one graduate will attend medical school and others will attend engineering programs at MIT, Stanford, Carnegie Mellon, Columbia and other top schools. Six graduates, also a single year record, will enter Harvard Business School after working for two years. Three members of the Class of 2012 graduated as "Grand Challenge Scholars," a National Academy of Engineering program that prepares students to solve the great engineering problems facing the world.