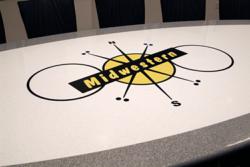 Conference tables from Tower Industries offer limitless options for size, shape, edge profiles, and custom inlaid logos, as well as incredible durability and unparalleled design flexibility
Massillon, OH (PRWEB) May 29, 2012
Tower Industries, America's premier solid surface manufacturer, has introduced a new line of custom conference tables built from Meridian® Solid Surface.
Conference tables from Tower Industries offer limitless options for size, shape, edge profiles, and custom inlaid logos, as well as incredible durability and unparalleled design flexibility.
"Meridian® Solid Surface has evolved into more than just sinks, countertops and shower bases. Conference tables made from solid surface materials are extremely durable and easy to maintain, making them ideal for commercial and other high-use applications" explains Peter Martin.
Because solid surface products are eco-friendly and renewable, many mars and scuffs can be easily removed by a qualified solid surface technician by simply sanding and re-buffing the table surface. In most cases, typical conference tables made from wood, stone, or plastic cannot be repaired.
"Flawlessly manufactured with uncompromising quality and undeniable beauty, our custom conference table designs will transform your boardroom into a meeting place where extraordinary is the new norm.
Our solid surface conference tables are designed and engineered to provide years of trouble-free service while offering unparalleled flexibility over traditional conference table designs" continues Peter Martin.
Limited only by the imagination, solid surface conference tables are sure to be an impressive branding piece that will certainly set a company apart.
Learn more about custom conference tables built from Meridian® Solid Surface by visiting http://www.towerconferencetables.com.
Or call them at 330.837.2216 to schedule your FREE consultation today.
About Tower Industries
Tower Industries is the premier provider of custom solid surface conference tables, solid surface shower bases, shower wall panels and shower accessories. Tower Industries specializes in manufacturing custom solid surface products to your exacting specifications.
Media contact:
Peter Martin
Phone: 1.330.837.2216
Address: 2101 Ninth Street SW, Massillon, OH 44647
E-mail: info(at)towersurfaces(dot)com