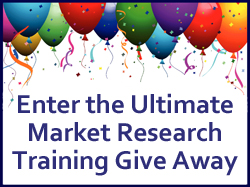 The new store is designed to make it easy to find topics of interest—whether the learner is seeking a quick dive into a single topic or looking to combine multiple options to create a customized market research "MBA" equivalent
Marlboro, MA (PRWEB) May 23, 2012
Market research training experts Research Rockstar today launched an online market research training store offering a full range of learning options. Classes include 10 Point Checklist for Questionnaire Design, Introduction to Quantitative Data Analysis, Market Segmentation, Social Media Meets Market Research and many more.
In keeping with its mission of making market research learning convenient and accessible to all, Research Rockstar has designed the new online store so that current trainings on many key topics can be purchased on demand.
The grand opening celebration features a drawing, in which participants have a chance to win $2,000 worth of free training. "It's basically a one-year pass to market research education," says President Kathryn Korostoff, of the prize. "The winner will have access to twelve months of our very popular Power Program classes."
The new online store offers a comprehensive menu of classes. Classes are offered in a variety of formats, from self-paced (Flash-based) classes to real-time, instructor-led options. The new store is designed to make it easy to find topics of interest—whether the learner is seeking a quick dive into a single topic or looking to combine multiple options to create a customized market research "MBA" equivalent.
"Understanding your customer is the key to world-class success, and market research is the key to understanding your customer," says Korostoff. "In understanding our own customers, we've realized that they're busy professionals who need training choices that fit into their lives. Designing the store as a market research training destination with a buffet-style range of options seems like the logical way to address that."
To celebrate the grand opening the Ultimate Market Research Training Give Away will provide one lucky winner with a Power Program Pass good for one year, allowing them access to all Research Rockstar's real-time four week classes. "We'll be picking the winner at random, but we're asking all entrants to complete the sentence, 'Learning market research is important because...'. During and after the drawing, we'll be sharing our favorites," Korostoff says.
For more information and to fill out an online entry form, visit this link: Drawing Form.
Contest rules a can be found here: Drawing Rules
About Research Rockstar
Research Rockstar delivers training, tips and tools to busy professionals seeking market research excellence, online or in person. Research Rockstar clients are actual buyers and users of market research services, people who need to find, buy, and manage market research resources. For more information, please contact Sales(at)ResearchRockstar(dot)com or call 508.691.6004.