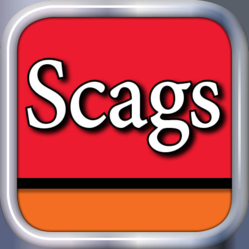 "After reading Scags on the iPad you will understand the true potential of digital reading."

Paul Canetti, Founder and CEO of MAZ Digital
(PRWEB) May 24, 2012
Now readers of the Scags Series have an almost infinite way of reading and exploring the contents and the social connectivity possibilities of this new series of e-books, written by Deborah Emin.
Contained within the free iPad app will be the entire series. Currently one volume, Scags at 7, is available ($5.99). This new approach to reading, being called a Living Book, is about pushing as far as possible into the social networking, e-learning and fan writing world as is possible today. Each volume in the series will be equipped with its own version of the e-book, totally enhanced and enlarged from the e-book versions that Sullivan Street Press will publish and continue to sell from its website.
Sullivan Street Press decided to create this iPad app so that it could truly push forward the new publishing paradigm. This app will allow readers to explore reading in an entirely new way. By giving readers access to a new, secret website that only they can gain access to through the portals in the app version of the book, readers can respond to questions, ask questions, write their own versions of sections of the story and share it with others among many other new ways of connecting, reader to reader and reader to writer. In addition, there are links within the app itself to a variety of informative sites, resources that give readers a deeper understanding of the context, times and content within the e-book. An example of this enhanced content are the links to the history of Chicago and the influx of Black migrants from the South. The connection to fan sites about the music of the 1950s that Scags talks about in her story. And information about Skokie itself, its origins, who lived there at the time the story takes place and where they came from.
In order to create these Living Books for the Scags Series, Sullivan Street Press had to find a partner to work with who understood what it envisioned. In MAZ Digital, they did. As their founder and CEO, Paul Canetti affirms:
"We are thrilled to be working with a brand like Scags that really takes advantage of the interactive features MAZ provides. To date, eBooks have been as static as their paper ancestors, but after reading Scags on the iPad you will start to understand the true potential of digital reading. The way that they integrate web content and social media into the pages of the book is groundbreaking, and I'm just happy that MAZ is able to give them the tools to make their creative vision a reality."
Sullivan Street Press brings together the world of e-reading at its most cutting edge horizon and couples that with its mission to keep e-books as green and environmentally friendly as possible.
About Sullivan Street Press:
Founded 3 years ago, Sullivan Street Press entered the e-publishing domain in order to change the publishing paradigm. It recognized that for both financial and environmental reasons it was necessary to advocate for the rise of the e-book and the technology that makes all things digital possible. In order to respond to our readers' concerns, many of whom aren't yet ready to commit to the e-book revolution, SSP began to have its book published in Print On Demand on the Espresso Book Machine at McNally Jackson Books in New York City. Then it reached out to On Demand Books, the parent company of the Espresso Book Machine, to be included in their world wide system of Espresso Book Machines. For more information on all the various ways in which Sullivan Street Press is using new technology to create less pollution and waste in the publishing process, visit the website: http://www.sullivanstpress.com
You can find Sullivan Street Press here too:
Facebook: http://www.facebook.com/sullivanstpress
Twitter: @sullivanstpress