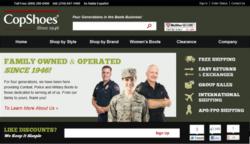 San Antonio, TX (PRWEB) May 24, 2012
CopShoes.com partnered with Miva Merchant on a complete "from the ground up" re-launch of the popular Police and Military Footwear site. "Our goal," said Matt Alper, CTO, "is to create a 'The online store to buy boots' for Police and Military professionals. We want you to come to CopShoes.com whether you are researching to find the right boots or if you are ready to buy."
"The new site features an improved design, faster page load speed, and a significantly improved overall shopping experience," said Brian Gold, Vice President. Specifically, CopShoes has streamlined the checkout, added a mega menu for easy navigation from anywhere on the site and completely revamped product pages with clear call to action.
Brian Gold said, "We decided to go with the Miva Merchant Professional Services Department because we thought they could do a more professional and a faster job then we could do internally." Rick Wilson, COO at Miva Merchant said, "CopShoes.com has been a long time Miva Merchant customer but prior to this project they had been a Do It Yourself customer where they built and managed everything on their own. As many of our very successful customers find out as they're growing, sometimes it's best to work with our professional services department and let us handle ecommerce expertise while they handle the important part which is running their actual business,"
Copshoes.com added other features to the site such as Customer Product Reviews and a Blog. Along with these new features, CopShoes has updated a number of their policies. The site is now offering free standard shipping within the Continental United States with no minimum purchase. In addition, there are no additional fees required on returns or exchanges.
About CopShoes.com
CopShoes.com is part of the Alper-Gold family of websites. Alper-Gold operates several e-commerce websites aimed at niche markets, including CopShoes.com, TacBoots.com, and MetBoots.com. CopShoes.com and TacBoots.com focus mainly on Police and Military footwear such as Combat Boots and Military Dress Shoes. Copshoes.com carries all the top brands including Bates Boots, Converse Boots and Rocky Boots. For more information please contact Brian Gold, Vice President, or visit the website at CopShoes.com . The toll free customer service number is (866) 280-0400.