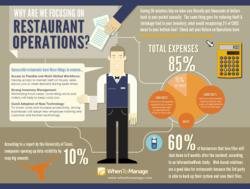 With this model, and through the use of our labor and inventory apps, stores will experience lower operating costs and justify greater investments into their marketing, people and growth plans.
Ann Arbor, MI (PRWEB) May 30, 2012
The most dynamic suite of restaurant productivity solutions has completed a four-month long pilot program with 15 HuHot locations and has been selected as a premier provider of back-office restaurant technology. Starting in May, HuHot Mongolian Grill franchise ownership groups will begin using the WhenToManage suite of services, including web-based scheduling, inventory management and operations reporting, all integrated to the Point of Sale (POS).
"We don't just give our providers a walk in the park. We explore, analyze and ask our franchise groups to go through a real user experience. WhenToManage met all of our criteria for reporting and cost control solutions at the Enterprise and store-level," said Jeff Martin, Vice President of Operations. Each HuHot franchise owner will be able to utilize a shared best-practices model created exclusively for the operation typified at a HuHot. "WhenToManage was able to take the most effective reports created from our core franchise partners and share these as dashboard components. In addition, we believe that our store operators will see substantial improvements to their bottom lines, using the inventory and labor functions. We can now offer any franchise owner, a reporting and operational tool kit to track top line, bottom line and everything in between. Additionally, we are now positioned to have real-time data that can assist us in identifying important and ever-changing trends in the field. This is an exciting development in the aggressive growth strategy of our company," continued Martin.
WhenToManage utilizes a SaaS-based architecture to instantly scale the business reporting and operations demands required of any growing/innovating franchise organization. With this program in place, WhenToManage is able to activate stores in hours, instead of days or weeks! "With HuHot, we were able to take what we learned at the store level and then connect the reporting and operational requirements at the corporate level to create a system that reports instantly on store successes and challenges. With this model, and through the use of our labor and inventory apps, stores will experience lower operating costs and justify greater investments into their marketing, people and growth plans. Or, frankly, owners can just sit back and enjoy the increased profits," said Walker Thompson, VP Sales and Marketing of WhenToManage.
About WhenToManage
WhenToManage is a restaurant operating system that is far and away more accessible, easier to use, requires less training and support and comes virtually complete "out of the box". What differentiates WhenToManage is a team of professionals that have years of true restaurant operations experience from the top down, and a passion for creating software that they, in turn, would be excited to use. Take a test drive of our labor scheduling solution! WhenToManage is also the founder of Community Plates, a 501(c)3 non-profit organization committed to ending food insecurity in the United States through food rescue. Founded in 2011, Community Plates utilizes breakthrough, proprietary, software technology to manage food donors, receiving agencies and volunteer drivers. To donate, volunteer and get involved, visit http://www.communityplates.org.
About HuHot Mongolian Grill, LLC
HuHot is a national create-your-own, stir-fry concept offering a wide variety of meats, seafood, noodles, fresh veggies, and signature sauces to suit your tastes. Select your favorite ingredients then be entertained as your meal is cooked to perfection by our grill warriors on a 6-foot, scorching hot grill. With unlimited trips to the grill, you can create a different meal every time.
HuHot Mongolian Grills, LLC opened its first restaurant in Missoula, Montana in 1999 focusing on fresh food, signature sauces and great service. Over the past 12 years, the concept has grown to 44 locations in 15 states and that focus has remained unchanged.
Ranked in the 2012 and 2010 Franchise 500 by Entrepreneur and named on the Future 50 list of fastest growing restaurant chains with sales between $25-50 million by Restaurant Business magazine in 2007-2009.
To learn more, visit the website at http://www.huhot.com