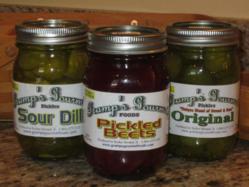 Gramp's says his pickles are like those potato chips - it's hard to eat just one.
Scales Mound, IL (PRWEB) May 23, 2012
A micro-pickler from rural Illinois, which got its start at local farmer's markets, now offers its products at grocery stores in Chicago's suburbs as well as other midwestern cities.
Gramp's Gourmet Foods, which includes homemade pickles and beets, are now available at many local stores in time for Memorial Day.
Bill "Gramp's" Brickner started making pickles and beets for fun. He gave them away to clients, family and friends at Christmas time and other occasions.
In 2005 Bill and his wife Janet ("Grams") started Gramp's Gourmet Foods in their hometown of Scales Mound – located ten minutes from scenic Galena in Northwestern Illinois.
"His children and I encouraged him to sell them at local farmer's markets and that is where it all began," said Janet.
Gramp's Gourmet Foods current product line consists of:

Sweet Pickles – 6 Varieties including Original, Garlic, Jalapeño, Horseradish, Habanero & "Kickers"
Sour Dill Pickles – 6 Varieties including Sour Dill, Garlic, Jalapeño/Garlic, Jalapeño, Horseradish & Habanero
Pickled Beets – 6 Varieties including Original, Cinnamon, Onion, Horseradish, "Heet" (jalapeño) & "Red Hot" (double jalapeño)
Splenda Products – Our Original Pickle and Original Pickled Beet are also available made with Splenda rather then sugar
Despite the great variety, Gramps is still developing new tastes.
"Keep watching," Janet noted, "because he isn't done yet."
All of Gramp's pickle varieties are available in slices or spears. They are all hand-cut, hand-packed and produced in small batches using minimally processed ingredients which are personally selected by Gramp's himself.
Gramp's Gourmet Foods are now available in the Dubuque, IA area at three Hy-Vee stores: Hy-Vee Dodge Street – 3500 Dodge Street, Hy-Vee Locust – 400 S Locust Street and Hy-Vee Asbury Plaza – 2395 NW Arterial Road.
Products are also now available in several Jo Daviess' County stores: Tammy's Piggly Wiggly – 997 Galena Square Drive, Galena, IL; Sullivan's Food Stockton – 103 W North Ave, Stockton, IL; and Sullivan's Foods Freeport – 2002 W Galena Ave, Freeport, IL.
"We are now available in two grocery stores in the Chicago area," said Janet. Products may be found at Joe Caputo and Sons Palatine, 2070 North Randall Road and in Algonquin at 100 South Randall Road.
For more information, visit the company at http://www.grampsgourmetfoods.com or on its Facebook and Twitter pages.