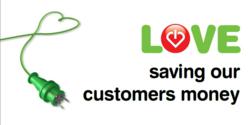 Save money at www.loveenergysavings.com
Bolton, UK (PRWEB UK) 23 May 2012
Whilst old power plants are closing and the demand for electricity is expected to double by 2050 as we progress towards electric powered products e.g. transport and electric heating. It is clear that the way we generate and use energy is continually changing in today's modern world.
The Energy Market Reform has been a high topic of conversation and the question on many people's lips is what does the new Energy Bill actually consist of? Love Energy Savings have examined its contents and are happy to break it down into its core basics.
The draft Energy Bill includes Capacity Market to ensure there is enough energy for everyone in the future and renewable transition arrangements to help investments under the renewables obligation scheme. The Energy Bill also states there will be "contracts for difference" which are intended to provide incentives for companies to invest in low carbon generation. There will be "investment instruments" before contract for different come into force. Contingency and conflict of arrangements are also included.
New fossil fuel power stations will also be limited on their emissions due to the new Emissions Performance Standard which is being enforced.
The new Energy Bill needs a £110 billion investment. This investment is designed to grow and update our energy infrastructure for the future. It also aims to increase the use of renewables and meet our emissions obligations.
A new Strategy and Policy statement has been implemented in order to align the strategies and aims of the government and OFgem. It should improve things at a regulatory level and specify the duties and roles of all the relevant organisations involved.
An Office for Nuclear Regulation has also been designed in order to regulate the industry of nuclear power. It should protect and offer security to the future generation of nuclear power plants. The office represents a step in the right direction to displaying the governments continuing commitment to nuclear as a source of electricity in the United Kingdom.
The core focus of the bill appears to be on gas and nuclear energy rather than renewable energy which is interesting as renewable energy has been associated as a high agenda issue within the media when discussing the bill. Juxtaposed public interests there are a few things that appear to be missing from the bill which were possibly expected such as energy efficiency. Energy efficiency is not even touched upon within the draft which many people would have expected. Love Energy Savings recognize the Bill is still in draft format and encourage people to look at their energy bills and check if there on the right tariff for their energy and get cheap electricity and gas quotes to save money on their usage.
Energy Saving tips are available on Love Energy Savings website http://www.loveenergysavings.com or follow them on twitter for energy advice https://twitter.com/#!/LoveEnergySavin Call 08000932791 for a cheap energy quote.