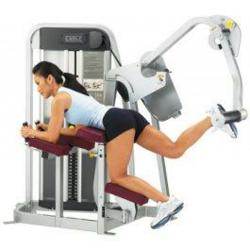 Los Angeles, CA (PRWEB) May 22, 2012
EquipYourGym is pleased to announce the launch of their new customer focused website. EquipYourGym offers new, refurbished, and used commercial gym equipment to fill the needs of its client's fitness centers worldwide. The new website can be viewed by going to: http://www.equipyourgym.com.
As a leader in new, refurbished and used commercial gym equipment, EquipYourGym has provided equipment to world class health clubs, and mixed martial arts fitness gyms. EquipYourGym also provides gym equipment for hotels, apartments and condominiums in need of a fitness center as well as home customers.
EquipYourGym counts on a wide range of well-known manufacturers, such as Life Fitness, Cybex, FreeMotion, Nautilus, Precor, Star Trac, and Technogym among many others.
Along with the launch of the website, EquipYourGym has added over 500 new products to their already vast arsenal of fitness equipment and accessories. Whether purchasing one machine or large volume, EquipYourGym offers fitness centers the ability to customize and cater to customer's specific needs. The new website helps customers navigate through a myriad of equipment for gym, encompassing a vast gamma of options, including free weights, cardio, strength circuit training equipment, flooring, and even supplements.
About EquipYourGym:
EquipYourGym is headquartered in Southern California and has been providing new, refurbished, and used fitness equipment to fitness centers across the world. EquipYourGym provides gym owners with the ability to acquire previously owned commercial fitness equipment at a fraction of what new equipment costs. For more information call 888-650-7250 or visit http://www.equipyourgym.com or http://www.facebook.com/equipyourgym.