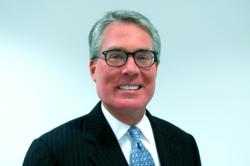 American Inns of Court are designed to improve the skills, professionalism and ethics of the bench and bar.
San Antonio, TX (PRWEB) May 30, 2012
San Antonio attorney-mediator Don Philbin has been elected president of the William S. Sessions American Inn of Court for the 2012-13 year.
American Inns of Court are designed to improve the skills, professionalism and ethics of the bench and bar. An American Inn of Court is an amalgam of judges, lawyers, and in some cases, law professors and law students. Each Inn meets approximately once a month both to "break bread" and to hold programs and discussions on matters of ethics, skills and professionalism.
Looking for a new way to help lawyers and judges rise to higher levels of excellence, professionalism, and ethical awareness, the American Inns of Court adopted the traditional English model of legal apprenticeship and modified it to fit the particular needs of the American legal system. American Inns of Court help lawyers to become more effective advocates and counselors with a keener ethical awareness. Members learn side-by-side with the most experienced judges and attorneys in their community.
The San Antonio Inn of Court is one of the original chapters and was named in honor of then Chief United States District Judge William S. Sessions to recognize his efforts in launching the movement nationally and locally. Today more than 25,000 state, federal and administrative law judges, attorneys, legal scholars and law students participate nationally and the San Antonio Inn remains one of the largest and strongest Inns.
Don Philbin, JD, MBA, LLM, was one of three Texas mediators listed in the inaugural edition of The International Who's Who of Commercial Mediation in 2011, was recognized as the Outstanding Lawyer in Mediation for 2011 by the San Antonio Business Journal, and continues to be listed in The Best Lawyers in America, Texas Super Lawyers, U.S. News and Best Lawyers' "Best Law Firm" survey, and The Best Lawyers in San Antonio. Don is also an elected fellow of the International Academy of Mediators and the American Academy of Civil Trial Mediators. Don not only mediates individual and class matters in a wide variety of substantive areas, he keeps up with cutting edge theory by continuing to teach academic and professional skills courses to seasoned lawyers and judges at Pepperdine Law's top-ranked Straus Institute for Dispute Resolution, in addition to guest lectures at UT Law, St. Mary's Law and other programs. His recently developed computer program, Picture It Settled™, helps litigants analyze positions and plot successful negotiating strategies using patent pending algorithms, neural networks, and data from thousands of case settlement negotiations and court statistics. Lite versions are available for free as smartphone apps on Android, Apple, and BlackBerry.