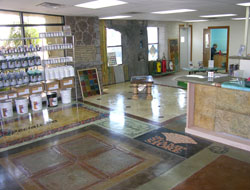 At The Stamp Store, we strive to exceed the expectations of each and every client we service.
Oklahoma City, OK (PRWEB) May 23, 2012
The Stamp Store, in Oklahoma City, Oklahoma, supplies high quality decorative concrete products including color pigments, fiber, hand tools, concrete sealers, sprayers, texture mats and skins, and so much more. These products can be used in a wide variety of concrete applications like countertops, flooring, driveways, pool decks, and even vertical concrete surfaces. The Stamp Store also understands the importance of hands-on training when it comes to installing any decorative concrete material, that's why they also offer training seminars led by concrete industry experts.
Doug Bannister, owner of the Stamp Store, has over 20 years of experience in the decorative concrete industry. He is a member of the American Society of Concrete Contractors (ASCC) and an American Concrete Institute (ACI) Certified Flatwork Technician. Bannister led the Stamp Concrete Demo at the 2001 World of Concrete conference and he shared the podium with Joe Nasvik, Senior Editor of Concrete Construction magazine, in their presentation Stamped Concrete II, an advanced seminar for concrete stampers, at the 2002 World of Concrete conference. Bannister also sits on ACI Committee 303, Architectural Paving. In 2006 Doug was selected by Concrete Construction as one of the Ten Most Influential People. And most recently, in 2010, Doug was inducted into The Decorative Concrete Hall of Fame for all of his contributions to the art and business of decorative concrete.
With so much impressive experience in the concrete industry, it makes sense that Doug Bannister would want to incorporate as much training and product information as possible into The Stamp Store. Seminars typically last either one or two days, depending on the subject matter, and provide all of the hands-on work necessary to build confidence and expertise. The Stamp Store's talented team of experts are always on site to provide information and how-to instructions for their full line of products.
The next training session will address the enCOUNTER concrete countertop system, and will teach students how to construct countertops, tables, shelving, back splashes, baseboards, fireplace surrounds and sinks using cast-in-place and pre-cast methods. Coloring, reinforcement and protective coatings as well as polishing and special effects will be taught.
For more information on The Stamp Store and their decorative concrete products, training and services, please visit http://www.thestampstore.com