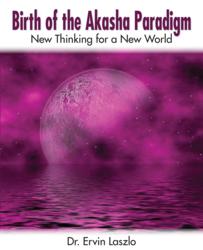 "The Akasha Paradigm will gives people revolutionary insights into the nature of reality and offer a new, encompassing concept of consciousness, fresh meaning to our life and reliable guidance for creating our future."
Los Angeles, California (PRWEB) May 30, 2012
An evolving major scientific revolution, giving us a "significant and fundamental paradigm shift" conveys greater insight than we have ever had into the fundamental nature of reality. It offers significant positive ramifications for society, according to Dr. Ervin Laszlo, renowned scholar and systems philosopher, in his latest book, Birth of the Akasha Paradigm: New Thinking for a New World (mini-ebook format, 46 pages, $4.95).
Featuring video clips from Deepak Chopra, Marianne Williamson, Stanislav Grof and others, this state-of-the-art enhanced multi-media ebook defines the Akasha Paradigm as the network and memory of the world – a new concept of the fundamental nature of reality. As Dr. Laszlo states, "The Akasha Paradigm is to the manifest world as the software of a computer is to its hardware. This hidden dimension – which governs how particles and atoms, and the resulting systems, interact and evolve -- is creating a new comprehensive worldview that more clearly reveals how…in an interconnected world all things affect others."
The Akasha Paradigm, according to Dr. Laszlo, is the coming scientific "(r)evolution" that will change everything we have known about cosmos, life, and consciousness. It brings the realization that there is a deep dimension in the universe that generates and interconnects all things in the world. This gives us a new, encompassing concept of cosmos and consciousness, fresh meaning for our life, and reliable guidance for creating our future.
Recognizing that our "coherence"– connection with our interior and exterior world – is the key to our health and viability, Akasha paradigm-based science also offers a new concept of freedom and morality. "Using our freedom to our best advantage means doing the best to be a positive element in the web of life…" Dr. Laszlo predicts that the Akashic (r)evolution will enable modern civilization to regain the coherence it has lost in society and with nature.
Connecting with the Akasha and regaining our coherence is more than an option and an opportunity: "It is a fundamental precondition of creating a world where humankind is not the biggest part of the problem, but the conscious and decisive part of the solution. This is the practical meaning of the comprehensive worldview coming to light in science's Akasha Paradigm Revolution," according to Laszlo.
Birth of the Akasha Paradigm: New Thinking for a New World in enhanced mini-ebook format is available now and may be ordered through http://www.amazon.com and other fine booksellers as well as through this website: http://www.AKASHAPARADIGM.COM.
This media enhanced mini-edition ebook was created by DreamSculpt Media, Inc.
DreamSculpt Media, Inc. was founded by Jared Rosen and has created web and mobile based mini-media ebooks for many popular authors including Jack Canfield, William Gladstone, Janet and Chris Attwood, and Arielle Ford.
An expanded edition of this book, entitled The Akasha Paradigm in Science: (R)Evolution at The Cutting Edge will be available as of the 5th of June, 165 pages, ebook $9.95, paperback $16.50, hardcover $27, also available through http://www.amazon.com and other fine booksellers as well as through this website: http://www.AKASHAPARADIGM.COM
The author of more than 400 papers and articles and 89 books including the best-selling Science and The Akashic Field,Nobel Peace Prize nominee Ervin Laszlo is Founder and President of the international think-tank The Club of Budapest, and Chancellor of the new online Global Shift University, organizations dedicated to developing new ways of thinking for the 21st Century. Laszlo is Member of numerous Academies, including the World Academy of Arts and Science, the International Academy of Philosophy of Science, and the Hungarian Academy of Science.
His books and articles have been translated into 23 languages and are featured in various sites on the Internet. Generally recognized as the founder of systems philosophy and general evolution theory, he holds the highest degree in philosophy and human sciences from the Sorbonne, the University of Paris, and is the recipient of Honorary Ph. D's from universities in the United States, Canada, Finland, and Hungary.
Waterfront Press is a wholly owned subsidiary of Waterside Productions, Inc. a full service literary agency founded in 1982 in Cardiff, California. As the world's premier literary agency for computer and technology authors, Waterside Productions is passionate about representing authors' interests and agented more bestselling authors and bestselling books in these genres than all other agencies combined.
Media Contact:
Dea Shandera
(818) 456-4585
deashandera(at)yahoo(dot)com