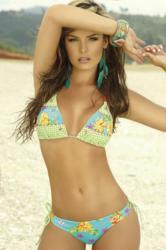 Gilbert, AZ (PRWEB) May 23, 2012
Anniversary Sale offers an incredible discount of swimsuits up to 75 % off tag price! Take advantage of this irresistible, one-of-a-kind offer. Think bikinis, one piece swimwear, monokini in this flower month of May. Become a beach butterfly with farfalla-blu.com.
Farfalla-blu offers one-of-a-kind swimsuits. Each one of these original fashion designs from Colombia is dressed up at Farfalla-blu with attractive, hand-embroidered ornaments. You can't find these gems anywhere but at Farfalla-blu.
"The idea for Farfalla-blu came about two years ago," owner Inge McKeever recalled. Inge, an experienced clothing designer, has managed fashion production, worked as a bridal designer, and nonstop generates ideas for novelty items.
Two years ago, Inge and her sister, co-owner Peggy Strauss, went on a business fact-finding trip to Argentina, Colombia, Mexico, and Brazil. Their mission was called "42 D". They were looking for fashionable, high-quality, large-size bras.
"The reality is, nice bras in larger sizes are hard to find," Inge said. "Stores like Victoria's Secret sell sexy bras but only for skinny women." Attractive, plus-sized bras was definitely a market gap. But even on that far trip, a manufacturer could not be found.
"However, lucky us, we did find an exquisite collection of bikinis, one piece suits, monokinis and more from a swimsuit vendor," Inge recalls. So the business plan was readjusted. The swimsuits were compelling. "What if we jazz these up and personalize them", was the next question.
And, suddenly, Farfalla-Blu, popped out of the cocoon. "Farfalla" means butterfly. That was the right name for the easy, breezy, colorful, one-of-a-kind swimwear collection. Durable Japanese beads added the extra sparkle.
Add to that a selection of sassy bra straps. The jewelry bra straps fit right in with the swimsuit concept. These crystal-studded gems come from a high-quality supplier in China also used by major US department stores.
Farfalla-blu definitely thrives off a Latina-inspired temperament. The playful designs are color happy and feminine-empowered. Needless to say, Farfalla's owners were raised in Ecuador and Colombia.
"Farfalla-blu swim suits are sexy but not vulgar," Inge describes Farfalla's concept. "We just like to have fun with fashions and, hopefully, share this happy mood with our clients."
Farfalla-blu is owned by Hola International LLC a privately held company
Base out Gilbert Arizona. The company is committed to providing women with a shopping experience with beautiful, sexy and elegant garments at competitive pricing and now in our on line store http://www.farfalla-blu.com
Farfalla-blu can be contacted at inge1555(at)gmail(dot)com or 480-329-6183
Press contact
Inge McKeeveer
Agent
Farfalla-blu
Tel: 480-329-6183
1farfalla(dot)blu(at)gmail(dot)com