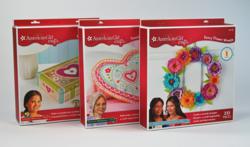 Clifton, NJ (PRWEB) May 24, 2012
The Parents' Choice Awards Program has announced that three American Girl Crafts products have won the coveted "Classic, Fun Stuff™" awards for Spring 2012 Toys. The winners are the Sweet Heart Embroidered Pillow, the Paper Flower Wreath and the Painted Memory Box.
The Parents' Choice Foundation is the nation's oldest nonprofit guide to quality children's media and toys. The foundation's purpose is to search out and recommend products that help kids grow—imaginatively, physically, morally and mentally. The Parents' Choice Awards committee additionally looks for products that help parents and kids to connect.
The American Girl Crafts line, designed for girls ages 8 to 12, includes kits inspired by the popular historical characters from American Girl®. Each craft distinctly reflects the character's spirit and the stories from American Girl's award-winning books. The high-quality kits pass on traditions such as embroidery, paper crafts and wood painting, while appealing to girls of today with contemporary colors and styling. The Sweet Heart Stitched Pillow is inspired by Felicity®, 1774; the Fancy Flower Wreath by Marie-Grace® and Cecile®, 1853; and the Painted Memory Box by Josefina®, 1824. Easy-to-follow, illustrated instructions are also included to help girls learn the new skills with confidence.
Introduced in 1986, American Girl's historical characters give girls an understanding of American history and foster pride in growing up as a girl in America. The flagship historical line, featuring premium-quality books, dolls, clothes, and accessories, has earned the loyalty of millions of girls and the praise and trust of parents and educators.
All products are available at AmericanGirlCrafts.com and Amazon.com with an MSRP of $21.99. Please contact mhuber(at)eksuccess(dot)com for more information, high-res images and samples. American Girl Crafts is a licensed brand from EKSuccess Brands, a creative consumer products company.
About American Girl
American Girl is a wholly owned subsidiary of Mattel, (NASDAQ:MAT, http://www.mattel.com), the world's leading toy company. Since American Girl's inception in 1986, the company has devoted its entire business to celebrating the potential of girls ages 3 to 12. American Girl encourages girls to dream, to grow, to aspire, to create, and to imagine through a wide range of engaging and insightful books, age-appropriate and educational products, and unforgettable experiences. In meeting its mission with a vigilant eye toward quality and service, American Girl has earned the loyal following of millions of girls and the praise and trust of parents and educators. To learn more about American Girl or to request a free catalogue, call 1-800-845-0005 or visit http://www.americangirl.com.
About EKSuccess Brands
Established in 1978, EKSuccess Brands is one of the country's leading creative consumer products companies. Its diversified portfolio includes more than 10,000 inspirational and creative products covering paper crafting, needle crafting, stamping, jewelry making, kids' crafts, painting and more. Popular brands include K&Company™, Inkadinkado®, Dimensions®, Jolee's Boutique®, Sticko®, Perler®, Martha Stewart Crafts™ and American Girl Crafts®. EKSuccess Brands is a division of Wilton Brands Inc. For more details visit http://www.eksuccessbrands.com. Dream. Make. Celebrate™.