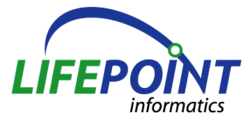 Glen Rock, NJ (PRWEB) May 23, 2012
Lifepoint Informatics announced its support of G2 Intelligence's Laboratory Outreach Conference being held June 6 – 8 at Paris Las Vegas. Lifepoint Informatics is a Gold Sponsor of this premier event that is dedicated to helping hospital administrators and financial and laboratory leaders improve the performance, profitability and management of hospital and health system outreach programs. Attendees have the opportunity to gain a wealth of valuable, cutting-edge knowledge on the lab outreach market.
G2's Laboratory Outreach event features a distinguished group of industry experts that are focused on the strategic outlook for the lab outreach market. This conference provides interactive presentations, real-world case studies, the latest market survey results and networking opportunities. Some of the high-stakes topics that will be addressed include:

Raising the Stakes: Top Ten Growth Strategies for Outreach Success
Outreach Roulette: Which Model Would You Bet On?
Winning Ways: Seizing Opportunities for Outreach Growth
Deal or No Deal? Making the Case for Lab Outreach
Lifepoint Informatics senior management will be on hand to provide information on its extensive line of laboratory connectivity products including EMRHub, LabHub, ONC Certified LPI Web Provider Portal, and CPOE Connect, the newest addition to the Lifepoint product portfolio. CPOE Connect enables EHR companies to seamlessly embed superior lab order entry capability into any EHR or EMR product. Lifepoint's order entry solutions have been successfully deployed in hospital systems, regional medical labs, local pathology groups, hospital outreach labs and national forensic testing organizations.
Lifepoint's CPOE Connect delivers advanced clinical order entry functionality at the point of care, providing medical necessity verification, ABN generation and specimen labeling capability to streamline workflow and improve office efficiency. Customers using the solution will eliminate illegible requisitions, issue faster requisitions, and experience dramatic reductions in calls and faxes between the medical office and the laboratory or other ancillary provider.
The proliferation of EMR vendors has made implementing and transitioning to electronic medical records (EMR) quite a challenge for hospital, medical center and clinical laboratory IT departments, with IT staff scrambling to keep pace with the connectivity demands that interfacing to these disparate systems require. With more and more physicians utilizing EMRs, labs need to have the right technology in place to seamlessly integrate EMRs and EHRs into their existing systems to remain competitive. EMRHub provides efficient and hassle free LIS to EMR interfacing and is vendor neutral so it works with any EMR or EHR. Lifepoint's LPI Web Provider Portal can help labs, hospitals, ACOs and all healthcare organizations meet the demand for connectivity with providers via browser-based, on-demand, superior portal solutions. LPI Web Provider Portal gives providers access to the most current data anytime from anywhere to help reduce turn-around-time and improve patient care. LPI Web Provider Portal works with existing HIS and LIS systems to leverage existing infrastructure and optimize the current IT investment.
For additional information about Lifepoint Informatics and its full line of HIT products, please visit http://www.lifepoint.com. For more information regarding G2's Laboratory Outreach conference, visit http://www.g2outreach.com.
About Lifepoint Informatics
Lifepoint Informatics is a leader in healthcare IT serving the data connectivity, integration and communication needs of clinical laboratories, hospitals and health networks. Lifepoint Informatics develops, sells and supports healthcare information technology solutions nationwide to help healthcare providers improve patient care and lower costs through the use of information technology. Since 1999, Lifepoint Informatics has enabled over 200 hospitals, clinical labs and anatomic pathology groups to grow their market share and extended their outreach programs through the deployment of its ONC certified Web Provider Portal and its comprehensive portfolio of ready-to-go EMR and EHR interfaces. For more Information please visit http://www.lifepoint.com.
###