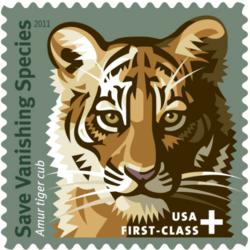 Just a simple, every day purchase such as a stamp is an easy way to protect wildlife
Silver Spring, MD (PRWEB) May 23, 2012
The Multinational Species Conservation Funds Semipostal Stamp Reauthorization Act S.3208 was introduced today in the U.S. Senate. S.3208 would reauthorize legislation requiring the U.S. Postal Service to continue to issue the Save Vanishing Species stamp, a semipostal stamp benefiting the Multinational Species Conservation Funds (MSCF) through another six years.
"This is a great opportunity to support valuable conservation efforts at no cost to taxpayers," said Sen. Rob Portman (R-OH). "Just a simple, every day purchase such as a stamp is an easy way to protect wildlife. I'm glad it has broad, bipartisan support and hope it will be taken up by Congress soon."
The price of semipostal stamps marginally exceeds the cost of first class postage. 10-cents from each stamp sold will support conservation efforts directed at saving endangered species worldwide. The five MSCF enacted by Congress are: the African Elephant Conservation Act of 1988; the Rhinoceros and Tiger Conservation Act of 1994; the Asian Elephant Conservation Act of 1998; the Great Apes Conservation Act of 2000; and the Marine Turtle Conservation Act of 2004.
"Since September, the tiger stamp has raised $1.15 million from 10.7 million stamps sold," said Sen. Tom Udall (D-NM). "The postage stamp is a symbol of who we are as Americans, and the popularity of the tiger stamp is another example of our commitment to preserving wildlife."
This federal program administered by the U.S. Fish and Wildlife Service has established the United States as the only international donor nation making a targeted investment in species conservation globally for tigers, rhinos, elephants, great apes and sea turtles. This first-ever semipostal stamp dedicated to wildlife came about through bi-partisan legislation in the 111th Congress that was budget neutral and fiscally responsible. The fourth stamp of its kind, it was unveiled publically by the U.S. Postal Service on September 20, 2011 and has since been available for sale.
"The Save Vanishing Species stamp represents a unique opportunity for all Americans to help conserve the world's most iconic species," said AZA president and CEO Jim Maddy. "Buying this stamp is a small but meaningful investment in our worldwide conservation efforts."
About AZA
Founded in 1924, the Association of Zoos and Aquariums is a nonprofit organization dedicated to the advancement of zoos and aquariums in the areas of conservation, education, science, and recreation. Look for the AZA logo whenever you visit a zoo or aquarium as your assurance that you are supporting a facility dedicated to providing excellent care for animals, a great experience for you, and a better future for all living things. The AZA is a leader in global wildlife conservation, and your link to helping animals in their native habitats. To learn more, visit http://www.aza.org.
###