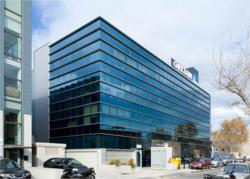 There is a subset of hematological cancers in which LSD1 inhibition defines a mechanism of action that looks particularly efficient. Hematologists and oncologists are very interested for this new approach as there is a clear medical need
Barcelona, Spain (PRWEB) May 24, 2012
Oryzon announced today that it is entering preclinical development with its second drug candidate, a first-in-class specific Lysine Specific Demethylase 1 (LSD1) inhibitor for the treatment of hematological cancers. Our LSD1 inhibitors reduced tumor load especially in acute leukemia models by targeting Leukemia Stem Cells, while normal myeloid progenitor cells were spared.
Lysine specific demethylase 1 (LSD1) is an enzyme that removes methyl groups from lysine 4 of histone H3 proteins that organize the nucleosomes, an epigenetic modification that leads to a repression of transcriptional activity of the target genes. LSD1 has been suggested as a possible target for cancer, viral infections and neurodegenerative disorders.
Oryzon's LSD1 advanced leads were efficacious in the treatment of Acute Lymphoblastic Leukemia (ALLs), which represents 25% of juvenile leukemia, and in certain types of multiple myeloma and Chronic Lymphocytic leukemia. Independently, Oryzon´s compounds were shown to be efficient in the treatment of acute myeloid leukemia (AML), which represents 40% of all leukemia in humans, and especially in mixed lineage leukemia (MLL), an aggressive form of acute myeloid leukemia. These data that were published recently in CancerCELL by a UK research team, indicate that there is a significant potential therapeutic window for the use of LSD1 inhibitors in the MLL molecular subtype of AMLs.
Oryzon's drug candidate is an enantiomerically pure, potent and selective compound with a low MW, good pharmacological properties, orally bioavailable, with good PK, safety and selectivity profile. Our candidate is active in vivo at doses of down to 0.05mpk. After successful completion of regulatory toxicology studies, the company expects to move its compound into Clinical Phase I/IIa early next year.
Acute myeloid leukemia (AML), and especially an aggressive form of acute myeloid leukemia called mixed lineage leukemia (MLL), are still being treated today with updated versions of old drugs developed 40 years ago. These intensive chemotherapies and bone marrow transplantation provide a successful therapy in only 50% of the cases. There is consensus among hematologists and oncologists that there's an urgent need for new drugs. Inhibition of LSD1 is a completely new approach to halt this disease and could help to address this medical need. Other types of leukemia and hematological malignancies could also be treated by targeting LSD1.
Next week, Oryzon will present its LSD1 program in Acute Leukemias at the GTC's 2nd Epigenetics in Drug Discovery conference in the session Drug Discovery in Epigenetics (May 30-31 at the Hyatt Harborside in Boston, MA).
Carlos Buesa , CEO of Oryzon said: " We have been working really hard the last 4 years in a first in class drug discovery program in LSD1 inhibition producing almost 800 compounds. We believe we have a dominant patent position in the field with 19 patent applications. Now, we and others have identified a subset of hematological cancers in which LSD1 inhibition defines a mechanism of action that looks particularly efficient. We have also verified the high interest amongst hematologists and oncologists for this new approach. We are eager to see the potential of these compounds in the clinic. This is Oryzon's second compound entering in preclinical development"
About Oryzon
Founded in 2000, Oryzon (http://www.oryzon.com) has one of the most complete technological platforms for biomarker identification in Europe. With a strong specialization in genomics, proteomics and bioinformatics, the company identifies biomarkers for a variety of neoplasic and neurodegenerative diseases. The company has a powerful platform for biomarker and target validation which includes technologies such as RNAi, microarrays, phage display and a structural genomic platform with a fragment screening approach (NMR and X ray crystallography). Oryzon develops new drugs and monoclonal antibodies against targets identified in its biomarker discovery programs but also develops diagnostic products.
Recently, the company announced its decision to enter in preclinical development with its first drug candidate, a first-in-class bispecific Lysine Specific Demethylase 1 (LSD1) and Monoamine oxidase B (MAO-B) inhibitor for the treatment of Huntington disease (HD).
Besides the therapeutic activities, Oryzon develops Diagnostic solutions directed against biomarkers identified in its discovery programs.
GynEC®-DX is a good example of the Diagnostic activity of the company. This product was discovered after 5 years of intense research. It is a signature of 5 genes differentially expressed that are highly accurate to determine cancer status in uterine aspirates and when combined with pathology on aspirates has a Negative predictive value of 99,6% according to the results obtained in a recent multi-centric double blind prospective study. Commercialization of this product that has been developed jointly with Laboratorios Reig-Jofré is expected in 2Q 2012.
Other launches under way
To complete its Diagnostics franchise, Oryzon entered into a partnership in the field of molecular diagnostics with New Zealand firm Pacific Edge Ltd in 2011. According to the agreement, Oryzon holds an exclusive license to market the Cxbladder® assay, which detects bladder cancer in urine in some European countries. Oryzon will run the Cxbladder® test in its Clinical Analysis Lab. The company expects to introduce a third product in the Spanish market in 2012.
For further information, please contact:
Emili Torrell
Business Development Officer
Tel. +34 93 515 13 13,
etorrell(at)oryzon.com