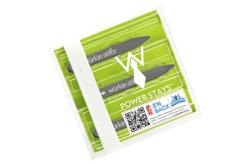 "Our most popular accessory, the 2.5 inch magnetic collar stays called Power Stays™, has a special label for our partnership with ZERO that includes a QR code for consumers to learn more about prostate cancer," said Jonathan Boos, CEO of Würkin Stiffs®
Sarasota, FL (PRWEB) May 23, 2012
Würkin Stiffs®, the men's accessories brand and ZERO – The Project to End Prostate Cancer, have partnered to raise prostate cancer awareness during the entire month of June. With all promotions geared toward Father's Day, five percent of Würkin Stiffs® retail sales, both in-store and from its website will be given back to ZERO to aid its on-going awareness campaign, research and testing.
"The statistics of how this disease affects men are startling," said Jonathan Boos, CEO of Würkin Stiffs®. "My grandfather had prostate cancer and a member of our sales team just lost his father to this disease. A simple blood test and early detection can make a crucial difference. This is obviously personal for us and we're doing everything we can to help ZERO proclaim their message. "
Beginning June 1, 2012, Würkin Stiffs® will conduct trunk shows nationwide at better department stores and boutiques, where customers can receive more information about ZERO, and purchase Würkin Stiffs product: Power Stays™, Polo Stays™, RFID Wallets and Cufflinks. Participating product will have a special Zero Label with a QR Code that directs consumers to an exclusive Würkin Stiffs - Zero web page. Men and women everywhere will learn how prostate cancer has personally affected members of Würkin Stiffs as well as where they can also make donations directly to ZERO. This initiative will be supported via an aggressive social media campaign, conducted by both organizations, inviting consumers to share their stories of how prostate cancer has affected their families.
"We're thrilled to have Würkin Stiffs take up the cause of helping end prostate cancer," said Jamie Bearse, Executive Vice President of ZERO. "Not only are they committed to making every man look like a sharp-dressed man but be a healthy man too because donations collected from the campaign will provide early detection for at-risk men and enable ZERO to increase resources dedicated to research."
###
About Würkin Stiffs®
In 2006, Würkin Stiffs® was born from the conception of Power Stays™, a patented magnetic collar stay, invented by Jonathan Boos. His wife (Amie) and then 10-month old son (Aiden) drove from store-to-store, selling their new invention from the back of their car. Since then, Würkin Stiffs' product offering has grown substantially to now include: knotz™, cufflinks, Polo Stays™, RFID Würkin Wallets and iWÜRK. These innovative products are now featured in marquee stores such as: Bloomingdale's, Neiman Marcus, Nordstrom, Saks Fifth Avenue as well as the finest specialty stores throughout the United States. In 2011, Würkin Stiffs embarked on expanding its brand throughout the world and now can be found in six other countries. With a humble attitude and strong fortitude, Würkin Stiffs continues to use technology and design innovation to create utilitarian accessories that würk better, while "Making Your Style More Stylish".
About ZERO — The Project to End Prostate Cancer
At ZERO, we commit ourselves not only to reduce prostate cancer or alleviate the pain from the disease, but also to end it. We see a future where all men who have been diagnosed with prostate cancer will be cured or manage their illness with good quality of life; with the support they need to minimize physical and emotional suffering, and to cope effectively throughout their cancer journey. To accomplish our goal, we provide comprehensive treatment information to patients, education to those at risk and conduct free prostate cancer testing