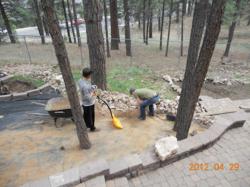 "Starters could be purchased at one of our local nurseries and planted soon even though the suggested time for our zone is not until mid June."
Flagstaff, Arizona (PRWEB) May 28, 2012
Back2Basics culinary director, Kathy DuPrez, is taken culinary class to the ground level by building the treatment center's first-ever, made-from-scratch garden. She intends to teach sober living residents the importance of cultivating something that is good for the body and environment.
DuPrez is still teaching weekly cooking classes at Back2Basics Sober Living, during which the residents are learning to make kitchen staples as well as fancier fare. She's still emphasizing balanced eating as part of a healthy, sober lifestyle. But she's also doing more.
Through an increasing focus on gardening, DuPrez is working toward building the meals at Back2Basics literally from the ground up. At the same time, she's guiding the residents toward one of the most basic tenets of spiritual growth: charitable service. At least a couple times a month these days, residents are dishing out meals at the nonprofit Flagstaff Family Food Center, and they're pitching in on local community gardens.
DuPrez said it was about half professional development and half personal interest that landed her in a Coconino County Master Gardener class this past year. Half the class was about gardening and the rest was about the local ecosystem, including topics such as local soil quality and the types of plants that grow here most easily.
"I have a huge notebook of information and I can refer to it at any time," she said. "And there's a hotline." The director of the master gardener program has also offered to help as DuPrez dives into the Back2Basics gardens this year.
DuPrez knows she may need all the help she can get – her plans are ambitious. She aims to build raised gardens in the backyard of the residential house, using railroad ties. She now knows she'll have to augment the acidic local soil. She'd like to get some smaller plants started in barrels, which can be moved in and out of the intense, high-altitude sun.