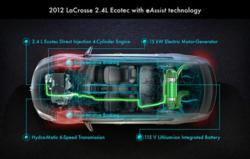 Charlotte, NC (PRWEB) May 24, 2012
With the 2012 Buick LaCrosse, luxury and fuel economy go hand-in-hand thanks to the eAssist Technology.
Plenty of automobiles on the market claim to be luxurious, and you certainly pay a luxury price for them. With the 2012 Buick LaCrosse, four-cylinder eAssist, electric assisted technology, comes standard.
Buick boasts that the 2012 LaCrosse gets better fuel economy than the Lexus HS and the Infinity M Hybrid. Buick's innovative eAssist technology improves your vehicle's fuel efficiency by adding a compact electric motor and state-of-the-art lithium battery to a 2.4 Liter, four cylinder ECOTEC engine. According to Car and Driver, this technology improves fuel economy by an estimated 25 percent. The 2012 Regal and the 2012 LaCrosse were the first to offer the now popular eAssist.
Road and Track says the 2012 LaCrosse eAssist's mileage gains come from a variety of factors. The stop/start in city driving, fuel shutdown under some conditions, electric-assisted driving acceleration on ramps and when climbing grades, low rolling resistance tires help as does the electric assist power steering.
Having gas and electric working in harmony is music to your ears at the pump too. Thanks to the eAssist technology, the 2012 Buick LaCrosse gets 25 mpg in the city and 36 mpg on the highway.
Starting at just under $30,000, this luxurious vehicle does not have a luxurious price tag, compared to many other high-priced competitors with similar fuel-efficient models. The Lexus, Lincoln and Infinity all have higher price points, starting at $34,000.
With the head up display and the Blind Zone alert system that is available, LaCrosse also offers accident avoidance technology, which Infinity G37 and the Lexus ES350 do not offer. Buick, with its technology advancements, continues to add value to an already state-of-the-art automobile manufacturer.
These days of shopping around for the best deal, Buick competes well with other luxury lines. A status symbol is in the eye of the beholder. Having a good-looking, fuel-efficient vehicle with an affordable cost attached may just be the new way to describe a status symbol.