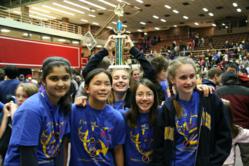 Andover, MA (PRWEB) May 23, 2012
Effective Student Marketing, Inc., a direct marketing company based in Andover, Massachusetts, is helping a team of five middle school girls make it to the Global Finals competition for Destination Imagination. The competition is being held on Friday, May 25th in Knoxville, Tennessee and Effective Student Marketing will be sponsoring their trip.
Destination Imagination is a non-profit organization that gives students a chance to work together on teams to solve open-ended Challenges and present their solutions at Tournaments. The DI team from Andover, MA is comprised of five 7th grade girls who won first place in the Solar Energy Challenge at the Massachusetts Destination Imagination State Tournament on March 31, 2012. They'll join 1200 teams from 50 states and 20 countries to compete at the Global Finals.
The team is made up of Sydney Nagahiro from The Pike School, Julia Beckwith and Clare Sullivan from Doherty Middle School, and Ananya Bhattacharya and Emma Kelley from West Middle School.
Effective Student Marketing is proud to sponsor this team of girls, "Andover Middle School Solar Stage," which includes Emma Kelley, daughter of Effective Student Marketing president, Andy Kelley.
"Aside from my personal tie to the team, we as a company support what Destination Imagination stands for. Obviously we support education, but we also strongly support science, math and engineering, especially among girls. Women are so under-represented in the world of science and engineering, we're excited to help this group of girls achieve their goals," said Kelley.
The team made it on to the Global Finals by creating a fully-functioning, self-playing piano that uses solar energy, a car battery, motor, and rotation tube. As the tube turns, wooden dowels press the keys and play a musical theme that serves as the climax of their show.
"To maintain our own competitive advantage, as a direct marketing firm we face and overcome challenges every day that require quick thinking, creativity, and problem solving. As a country, I believe that we need to move away from worshipping celebrities and athletes, and reward those people who are rock stars, in math, science and engineering & technology, the ones who can solve every day problems. Destination Imagination encourages that mindset in these young people," Kelley explained.
Andover Middle School Solar Stage will be traveling to Knoxville, Tennessee this week, thanks to generous sponsors like Effective Student Marketing and Magnolia Solar, a local solar energy company that is also contributing.
To follow the competition live and see how the Andover team does, you can follow @AndyWKelley or @TJOKelley on Twitter. They'll be using the hashtags #andovermadi, #MADI #idodi, and #wickedsmartgirls to track the girls' progress.
About Effective Student Marketing
Effective Student Marketing, Inc. is a full service direct marketing company that specializes in the for-profit and career school sector of higher education. We pride ourselves on knowing the career education industry inside and out, staying up to date with the latest in compliance and regulatory changes.
Andy Kelley, president of Effective Student Marketing, comes from the school side of the business, with over twenty five years of experience working in marketing and admissions at training and vocational schools. The other members of the Effective Student Marketing team are specialized professionals with experience in marketing, social media, design, development, and customer service.
Effective Student Marketing helps schools reach their admissions, retention, and placement goals by combining our extensive experience with the latest technology to create customized solutions for each client.