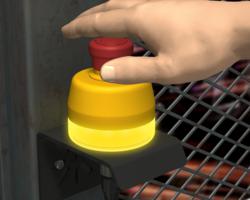 Working with the safety development team, we were able to bring an intriguing new product to the market that no one has seen before.
Minneapolis, MN (PRWEB) May 24, 2012
Banner Engineering introduces the patent-pending 30 mm Mount Illuminated Emergency Stop pushbutton, combining status indication and safety in one, unique solution for the first time. With bright, highly-visible illumination, the new E-Stop is ideal for diverse emergency stop safety applications, helping to provide users with enhanced safety and productivity on the manufacturing floor.
Featuring Banner's industry-recognized EZ-LIGHT™ logic, the 30 mm Mount E-Stop pushbuttons provide an illuminated yellow base when the button is armed and the machine is enabled to RUN or is running. When the button is pushed, the yellow illumination turns to a flashing red indication to alert operators of an emergency stop condition. Users can easily reset only the pushed button or buttons, readying the device efficiently with minimal downtime. The yellow illumination can also turn to a steady red indication when a STOP condition exists by applying an external signal via the M12 QD connector. To meet diverse application requirements, the E-Stops are available with two-color yellow and red lighting, red lighting or a non-illuminated black base.
"The unique and attractive element of the 30 mm E-Stop for customers is in its illumination," said Chuck Dolezalek, Director of Product Development for Lighting and Indicators. "Working with the safety development team, we were able to bring an intriguing new product to the market that no one has seen before. With an illuminated base that flashes red, the visual feedback is clear cut, which is extremely useful for operators trying to figure out where the emergency stop occurred."
Offering a robust, IP65-rated design and 30 mm mounting base, the E-Stop pushbuttons allow convenient installation with no assembly, individual wiring or additional enclosure required—resulting in lower installation costs. For applications requiring a series of E-Stops, multiple buttons can be interfaced and series connected with CSS Series Hookup Cordsets. Flush (surface) mount models are also available with standard, illuminated, lockable and illuminated lockable pushbuttons.
The easy-to-use E-Stop button has "Safe Break Action" to ensure the safety contacts will open if the contact block is separated from the actuator. The push-to-stop, twist-to-release or pull-to-release actuator and direct (positive) opening operation is compliant with ANSI B11.19, ANSI NFPA79, ISO 13850 and IEC/EN 60204-1 Emergency Stop requirements and meets worldwide safety standards with a red button and yellow background.
Learn more about the 30 mm Mount Illuminated Emergency Stop pushbutton by visiting the following link: http://www.youtube.com/watch?v=qc2cwAd-VZk
About Banner. Banner Engineering is a world leading manufacturer of photoelectric and ultrasonic sensors, indicator lights, vision sensors and vision lighting, electronic machine safeguarding systems, wireless networks, fiber optic assemblies and precision measurement systems.
For further information, contact Banner Engineering Corp., 9714 Tenth Avenue North, Minneapolis, MN 55441. PH: 888.373.6767 (Toll-free North America), or 001.763.544.3164 (International). FAX: 763.544.3213. Email: sensors(at)bannerengineering(dot)com. E-commerce: http://www.bannerengineering.com/buyonline. Web: http://www.bannerengineering.com.