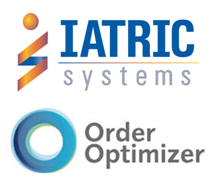 Boxford, MA (PRWEB) May 24, 2012
Iatric Systems, Inc., and Order Optimizer, Inc., announce the immediate availability of a fully integrated evidence-based order set (EBOS) platform using Iatric Systems OrderEase solution. OrderEase enables hospitals using MEDITECH MAGIC to implement Computerized Physician Order Entry (CPOE) and improve physician satisfaction, in part by offering Order Optimizer's patented merging engine to simplify treatment of complex care patients.
Federal health reform emphasizes the development of evidence-based practice to improve the quality and effectiveness of health care and reduce unnecessary spending. Moving evidence into practice, however, can be challenging and requires solutions that provide:

Ease of use by physicians and clinicians to assure high adoption
Evidence-based content development, maintenance and workflow management
Seamless integration with Electronic Medical Record Systems (EMRs) such as MEDITECH
The ability to measure the effectiveness of EBOSs relative to reducing cost and improving quality
The unique attributes of Order Optimizer and OrderEase solve these challenges by providing a secure, integrated CPOE solution, a patented EBOS merging engine that automatically eliminates duplicate orders across co-morbid order sets, analytics and ONC certification.
"We're excited about the seamless integration between Order Optimizer, OrderEase and the MEDITECH EMR," said Joel Berman, President and CEO of Iatric Systems, Inc. "The combination gives MEDITECH MAGIC hospitals the unique ability to deploy advanced clinical decision support using evidence-based order sets, manage content, and meet Meaningful Use requirements."
Dr. Philip Sanger, Chairman of Order Optimizer, stated, "Our ultimate goals are patient and physician-focused --- we want to make it easier for all physicians to leverage evidence-based protocols so that patients get the best outcomes. We're also committed to getting hospitals up-and-running in as little as 4-8 weeks. Our partnership with Iatric Systems is one more step towards reaching these goals."
About Iatric Systems
Recognized by Inc. 5000 as one of the fastest growing privately held companies for the past four years, Iatric Systems helps hospitals and health systems leverage their HIS investment with software, interfaces and reporting services. Since 1990, more than 1,000 hospitals worldwide have implemented Iatric Systems solutions; optimizing patient care and staff workflow in clinical, financial and administrative areas. Iatric Systems was acknowledged on the Healthcare Informatics Top 100 Healthcare IT Revenue list in 2009/2010/2011 and the Modern Healthcare Top 100 Best Places to Work in Healthcare IT in 2009/2010/2011. For more information, please contact info(at)iatric(dot)com or visit http://www.iatric.com.
Contact:
Kate Washburn
Wondergem Consulting
(616) 235-7467
kate(at)wondergem(dot)com
About Order Optimizer
The Order Optimizer software platform was designed by physicians at the hospitalist company, Intercede Health. Started in 1995, Intercede Health was among the first hospitalist companies in the country.
Early on, the founding physicians recognized the need for an easy-to-use tool that would allow them to effectively and accurately generate comprehensive admission care plans from one or more diagnosis-based order sets. They also recognized the clinical management power of having key metrics available in real time so that treatment decisions are influenced during the inpatient stay --- this is how Order Optimizer was born.
Today, Order Optimizer has developed into the most innovative secure cloud-based software solutions incorporating a patented Evidence-Based Order Set (EBOS) merging engine that automatically eliminates duplicate orderables across co-morbid order sets, a comprehensive analytics portfolio, and ONC certification for ease of integration with any EMR system.
Contact:
Vincent Salvo
Order Optimizer, Inc. Phone: +1 832-476-3900
Vincent.Salvo(at)orderoptimizer(dot)com