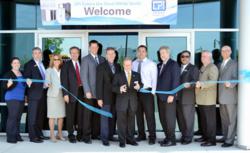 We are pleased to have completed the additional investment in a new Canadian sales office and product showroom to further support the Canadian sales team's efforts in responding to IT Infrastructure growth opportunities in the Canadian market
Westlake Village, CA (PRWEB) May 23, 2012
Already established as a global manufacturer of IT infrastructure equipment, Chatsworth Products (CPI) expanded its North American reach on May 15 with the grand opening of its first Canadian sales office and product showroom. CPI, an employee-owned company that manufactures voice, data and security products, as well as service solutions that optimize, store and secure technology equipment, hosted this company landmark under the theme, "CPI Enters the 'Great White North.'"
Located in the Toronto suburb of Vaughan, Ontario, this new 3,800-square-foot facility marks CPI's first brick and mortar footprint in Canada with a sales office that includes a conference room equipped for product training sessions, and the facility's centerpiece, a state-of-the-art product showroom. Outfitted with a raised floor, TeraFrame® Cabinets, GlobalFrame® Cabinets, PDUs, Evolution® Cable Management and OnTrac® Wire Mesh Cable Tray and Runway, visitors are given a true sense of CPI Products as they would appear in an actual data center.
"The quality of the facility is first class and very professional," said Stew Munns, CPI's National Sales Manager for Canada. "The environment is unique in the sense of having a raised floor data center showroom. Customers really appreciate the experience of being able to see a product as it would live in its natural environment."
CPI's newest Aisle Containment Solution can also be found in the product showroom, offering Canada's IT professionals a first-hand glimpse into the company's global reputation as innovators in thermal management and airflow solutions for data centers.
"There's been a lot more market awareness of energy efficiency and air isolation issues," said Munns. "Customers at large are looking for professionals that are experienced in designing for those efficiencies. We've led the pack in pioneering those types of technologies and customers appreciate our product quality, engineering, technical support and analysis of that space. They trust us and appreciate our experience when it comes to that technology."
Aisle Containment was certainly the most popular attraction among those attending the open house, which included a jubilant crowd of customers, media, CPI's Executive Management Team and all four members of CPI's Canadian sales team. Led by Munns as the National Sales Manager, the Canadian team also includes Dave Wood, Regional Sales Manager for Ontario and the Maritimes, Colin May, Regional Sales Manager for Western Canada, and Colleen Birnie, Office Administrator.
"The most important investment CPI has made to date in Canada is in the local, in-country CPI employee-owners," said Larry Renaud, CPI President and CEO. "We are very proud of the team that we have in Canada. We are pleased to have completed the additional investment in a new Canadian sales office and product showroom to further support the Canadian sales team's efforts in responding to IT Infrastructure growth opportunities in the Canadian market."
CPI's Canadian team has also been busy in recent weeks preparing for the Data Center Power and Cooling Efficiency Seminar. With dates set in Toronto (June 5), Ottawa (June 7) and Calgary (June 12), these one-day events offer BICSI and AIA continuing education credits for airflow management, overhead power, cabling and more. Visit the registration page for more information.
This latest open house marks the second international office opening for CPI this year, with the first occurring in Shanghai, China this past February. In addition to having its corporate office, manufacturing facilities and Research Training and Development (RD&T) in the US, CPI has sales offices in London, Dubai and Mexico City, as well as manufacturing facilities in Asia and Europe to support those regions.
About Chatsworth Products
Chatsworth Products (CPI) is a global manufacturer providing voice, data and security products and service solutions that optimize, store and secure technology equipment. CPI Products offer innovation, configurability, quality and value with a breadth of integrated system components, covering virtually all physical layer needs. Unequalled customer service and technical support, as well as a global network of industry-leading distributors, assures customers that CPI is dedicated to delivering products and services designed to meet their needs. Headquartered in the US, CPI operates global offices within the US, Mexico, Canada, China and the United Kingdom. CPI's manufacturing facilities are located in the US, Asia and Europe.
CPI is listed with the General Services Administration (GSA) under Federal Supply Schedule IT 70. Products are also available through GSA Advantage and through Government Wide Acquisition Contracts (GWACs), including GSA Connections and NITAAC-ECS III. (http://www.chatsworth.com/gov)
Media Contact
Craig Ramey
Public Relations Specialist
Email: cramey(at)chatsworth(dot)com
Phone: (+1) 252-635-4264
More Information
Visit: http://www.chatsworth.com
Email: info(at)chatsworth(dot)com
Toll-Free: +44 01628 524 834
All products quoted are subject to availability based on manufacturing capacity and shipping dates should be considered estimates only. While every effort has been made to ensure the accuracy of all information, CPI does not accept liability for any errors or omissions and reserves the right to change information and descriptions of listed services and products.
©2012 Chatsworth Products, Inc. All rights reserved. CPI, CPI Passive Cooling, MegaFrame, Saf-T-Grip, Seismic Frame, SlimFrame, TeraFrame, GlobalFrame, Cube-iT Plus, Evolution, OnTrac, QuadraRack and Velocity are federally registered trademarks of Chatsworth Products, Inc. eConnect and Simply Efficient are trademarks of Chatsworth Products, Inc. All other trademarks belong to their respective companies.