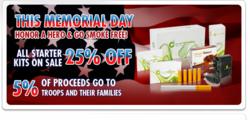 (PRWEB) May 25, 2012
If you need another reason to make the lifestyle switch from traditional cigarettes to electronic cigarettes, let EverSmoke's Memorial Day Weekend special offer be the deal breaker.
Five percent of all sale proceeds from EverSmoke, a popular electronic cigarette company, will be donated to the troops and their families in honor of Memorial Day. EverSmoke's Memorial Day sale is 25 percent off on all starter kits from May 12 through Memorial Day weekend, ending on May 28, 2012. EverSmoke wants to recognize those soldiers and families who have served and protected our country, as well as give thanks.
EverSmoke commented on their offer by stating, "Our goal is to create a healthier lifestyle everywhere, so it is important to us to reach out to our brave service men and women who are serving our country because every day they are experiencing life changing experiences. We strive to improve the quality of life for our American Heroes."
The benefits of EverSmoke are life changing, and give individuals the freedom to smoke anywhere. With EverSmoke there is no smoke just pure vapor, no bad breathe and no yellow teeth. There is absolutely no tar, no ash, no smell and most importantly no harmful chemicals. EverSmoke has the most advanced technology, thickest vapor production, highest-rated customer service and best tasting flavor cartridges of Tobacco, Vanilla, Cherry, Menthol, Peppermint and Coffee. With six popular flavors of cartridges, and four nicotine strengths, EverSmoke caters to a wide-range of needs.
This technologically advanced brand of electronic cigarettes and desirable flavor cartridges are an effective combination aiding consumers in making a better smoking choice. EverSmoke is an environmentally conscious company and proudly located in the United States. EverSmoke offers e-cigarette starter kit s and accessories online.
Affiliates of EverSmoke are also promoting this Memorial Day campaign.
For more information about EverSmoke's products visit http://www.EverSmoke.com.